Buenos Aires – Last night found us headed off to San Telmo to meet up with a friend in visiting from Paris. He gets a three week vacation. Twice a year. If I'd have had that at any job in my work history, I'd have probably stayed wherever that was! We actually met him at the same time we met each other, we were all in the same hotel – along with two other friends who are also in town visiting – one from Finland and one from Corsica. Dinners look pretty full up for the next couple of nights!
Pascal suggested we head to a place he'd noticed nearby that looked interesting, Territorio, at Estados Unidos 500, corner of Balcarce. The place has the feel of an old time bistro/bar, lots of rough, painted wood, pictures ripped out of magazines and stuck in frames, postcards tacked to the walls, a little on the smoky side, other than the music, which leans towards punk rock music (The Clash, Sex Pistols, Dead Kennedy's) throughout the evening. Still, the place is a bit of a cacophony, with all hard surfaces – between the music and the conversations, there's a bit of a din. At one point during the evening someone came out from the kitchen, lit an incense stick and stuck it on a shelf next to us – after a few moments we asked to have it removed – let's face it, even if you like incense, which I don't, you don't generally want it burning next to your table while you're trying to smell and taste your food.
The menu is interesting, consisting of about a dozen pages, however, half of them are blank. The actual menu is only the first page, and it's a prix fixe choice of one, two, or three course meals; there's a page for artesanal beers (five listed on the page); a wine list – two pages of actually pretty interesting selections; a two-page description of different types of breads and ingredients, sort of a glossary; and a page listing three options for fiambre (cold cut) and cheese platters. They seem to have been stuck in at random, between our three menus, other than the first page, each menu was in a different order.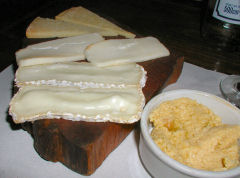 There were only two appetizers offered, the first, a selection of goat cheeses. Unusual for an appetizer, in that, generally I find that cheese courses, especially here, come as dessert or in between dinner and dessert. The selection was of three cheeses, a young one, and slightly aged one, and an aged one. That seemed to be as much as anyone there knew about them. Still, they were quite good, so someone knows their cheeses well enough to have selected them. The cheese board was served with a dish of white bean and garlic puree, and another of slightly vinegary eggplant puree, both good, and both working well at accompanying the cheeses.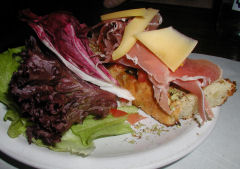 The other appetizer selection was a "bruschetta" of prosciutto (jamón crudo). A simple slice of toasted country bread was topped with a couple of slices of prosciutto and some slivers of another cheese, also unidentified. They do like cheeses at Territorio, in fact there's a windowed refrigerator looking out into the dining area with numerous cheeses clearly in evidence – presumably mostly for the mixed platters. The bruschetta was simple, though good, and accompanied by a salad of mixed lettuces, undressed.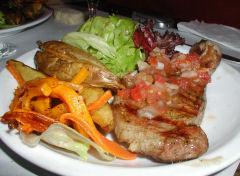 Moving on to the main courses, the selection consisted of a steamed fish with vegetables, a mushroom omelette, a dinner salad, and the two things we ordered. The first of those was the bife de chorizo, more or less a New York strip steak, served with a relish of chopped tomatoes and onions that was lightly spicy. It was accompanied by papas del campo, or steak fries, which were excellent, a mound of mixed sauteed vegetables, and a couple of leaves of mixed lettuces. The steaks were decent, though not great – and Henry and Pascal, respectively, ordered them medium and extra-rare, both came out more or less medium rare, it was pretty hard to see any difference.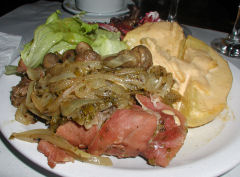 The other dish, which I tried, was far more interesting, and I thought quite well done, if just sort of plopped on the plate (truthfully, that's my style of plating most of the time too, so in a bistro, who am I to complain?). A perfectly cooked and delicious medium rare piece of wild boar steak, roughly an inch thick, topped with a layer of prosciutto and the whole thing covered in an excellent mushroom and onion sauce. Impressively, they were using very small brown mushrooms that I'm racking my brain to remember what they're called – often used in French cooking, and quite flavorful, looking sort of like brown button mushrooms but not much bigger than a bean. The boar was accompanied by potatoes topped with a yellow Thai curry sauce – spicy and quite good, and yet another undressed salad of lettuce leaves.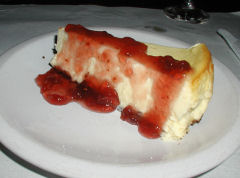 Dessert options also consisted of two. The first was a slightly bizarre cheesecake. In texture it was somewhere around that of a typical New York cheesecake – a little bit on the light side, and clearly held together with a touch of gelatin. It was served topped with a strawberry jam that was quite good. The cheesecake itself was pretty good. The whole dish was served hot. I don't think I've ever had a cheesecake heated to be served (and it had been heated, as we saw them pull it out of the refrigerator and stick it in the microwave). In truth, it gave an interesting added dimension to the dessert, and I might try it the next time I make my own cheesecake.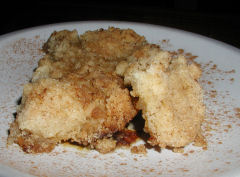 They still don't quite get the idea of a crumble in this city. I have yet to have one that was bad flavorwise, but there seems to be a misunderstanding of the whole concept. Like this one, they tend to just be a mound of cooked fruit topped with a sort of semi-crumbly pastry crust with sugar and cinnamon on it. It's the right idea but wrong execution. This one also had an awfully thin layer of apples, making the "crumble" the main part of the dessert.
Overall I liked the food. I was less impressed with the atmosphere, but then, in nice weather one could sit outside. The cuisine is described as autóctona which means indigenous or native – given the strangely eclectic selection, one has to wonder indigenous or native to where?