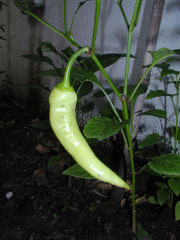 Buenos Aires – Not just flowers and leaves, but finally our garden has decided to give forth in the world of vegetables. Our first pepper has finally reached maturity and is nearly ready to be picked and made into something. It's a banana pepper, so not picante, so perhaps sliced into a salad. Perhaps sauteed with other veggies and topping some sort of carne. Perhaps just pickled in a jar of vinegar for all eternity. It's actually kind of exciting, as we reach the end of the summer and I see peppers developing hither and thither in the garden. The tomatoes, the cucumbers, the beans – none seem to be ready to produce anything resembling a fruit or vegetable. The sage, rosemary, and lavender are all growing well. The thyme drowned in the heavy rains last week, which managed to strip every single leaf from the stems. Did I mention our first pepper is nearly ready for picking?
—————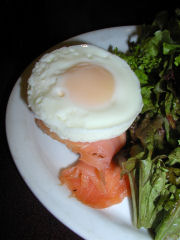 On Bill's last night in town we decided to go for some simple pasta. Too much on the meat end of things over the weekend (lunch was at some nondescript parrilla in San Telmo which doesn't merit reviewing). We've been wanting to try a little pasta place a couple of blocks away, so it seemed oportune. Sunday night found us on the balcony in
Oliverio
, Pacheco de Melo 2001, here in Barrio Norte. It's kind of a pretty room, lots of nice artwork, soft colors, space between the tables, and a reasonably friendly if harried staff (the place was nearly full with only two waiters working, and no manager in evidence). I was actually pretty impressed with how well they seemed to manage, especially as there were at least a couple of tables of clearly difficult customers. I wanted to try the salmon mousse, but unfortunately they were out of it – our waiter offered an off-the-menu item, a special smoked salmon dish. It should have occured to me that they were finishing off things from Sunday brunch. What arrived was a tasty, more or less smoked salmon eggs benedict (eggs poached just a shade too long) – delightful in and of itself, but with two of them and a large salad in the middle, an entree portion in itself, plus not exactly my idea of a dinner appetizer. 
[Closed in 2008]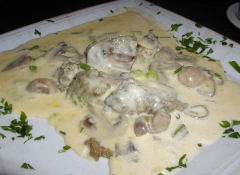 This abomination is, believe it or not, the broccoli soufflé. It would be difficult to know where to begin to criticize this dish. I do know that Anton Carême's grave just collapsed like, well, like this imitation souffle. My best bet is to describe what they have done and let the infamy be obvious to all who know the ethereal delights of a properly made puff of egg and flour. Imagine, if you will, a sort of soggy baked pudding, mixed with a puree of broccoli that was clearly past its prime. Spoon a couple of scoops onto a plate, mash them flat, and top the whole thing with a mushroom and herb cream sauce (admittedly the sauce wasn't bad) – easily two to three times the volume of the "soufflé" itself.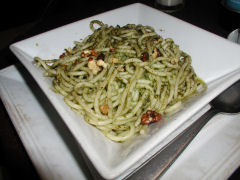 We weren't holding out a lot of hope by this point for the pastas we'd ordered. We had been impressed with the menu selection – easily a dozen different pastas, with a choice of two dozen sauces, many of which sounded quite creative. Add to that another dozen house special pastas with their own predetermined sauces and it's clear these folks are serious about the genre. Thankfully, they deliver on this part of the menu. Henry loves my pesto, and I know what usually passes for the stuff here, so I tried to talk him out of ordering it here, despite their assurances on the menu that they use fresh basil, walnuts, garlic, and parmesan. As it turned out, it wasn't bad. It still isn't on the scale of truly intense fresh pesto, but, it wasn't bad. Next time, puree the garlic and nuts in with the basil and cheese and you'll be closer…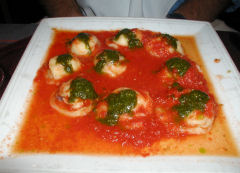 Bill too liked the idea of pesto, but likes his cut with a touch of tomato. That reminds me, I'll have to make my sundried tomato pesto and share it with you here one of these days. He ordered the panzoti, or small round ravioli, filled with a mixture of ricotta, pancetta, and onions. Our waiter assured us that mixing the two sauces wouldn't present any problem. While the kitchen didn't quite get the concept, it worked out well, each of the panzoti topped with a small spoonful of the pesto, just the basil and cheese puree part, and the whole plate sauced with a vibrantly fresh tomato sauce. It worked. It even looked pretty.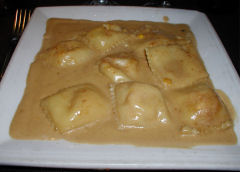 My eye was caught by the special pumpkin and corn ravioli. I love a good pumkin or squash ravioli. Usually I'd go for something simple like a butter and sage sauce. But I've done that so many times before that I decided I'd try something new. My eye had also been caught by the al Oporto sauce, a cream, port, and herb reduction. I figured it meant a fairly sweet dish all around, but I had no plans for dessert, so why not? It was excellent – the differing types of sweetness balanced each other beautifully. And yes, a sprinkling of brown sugar, throw it under the broiler, and serve it as a postre and no one would blink.
All around, kudos for some quite good pastas. Cooked right too (just a touch tan crudo for Henry, but he managed). A nice bottle of Finca La Anita Rosado 2005 worked well with everything except the broccoli soufflé. We'll be back… [This place closed in early 2008, replaced by a coffee shop called Pacheco.]