Buenos Aires – Friday, we spent most of the day indoors – the heavens were pouring rain, and we thought my friend Bill was arriving to spend part of his vacation with us (turned out it was 11:30 at night, not in the morning) – so when the rain finally died down, we were ready to treat ourselves a little. Just up the block from us is a restaurant which we've passed by many a time, glanced at the menu, and thought, oh, another parrilla, and a touch pricey. We've then continued on to other points for dining. Recently though, we'd heard rumors that the place offered live music and that the food was quite good, so when we felt like going out for something a little nicer, we headed to Evaristo, Uriburu 1488, here in Barrio Norte. [This place has closed.]
A big, airy space, lots of wood, comfortable chairs and booths, a large bar, an interesting display of wine bottles hovering over the dining room – all good things – and topped off with a friendly, welcoming staff. No live music in evidence, though certainly plenty of room for it, perhaps it happens at certain times or on certain days or perhaps never. I'm not sure why we never got around to asking, but, we didn't. It was early, there were only a couple of other folk in the dining room, and we settled comfortably into one of the booths. They were out of my first choice of wine by the glass, an intriguing sounding Sangiovese, a grape not seen much here, but the Los Harolodos Malbec was quite good as a second choice.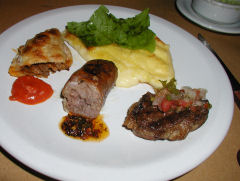 We started off by, as usual, overdoing our appetizer selection. When four separate platters arrived at the table it seemed easier to just have our waitress split them and serve them on a couple of plates, so soon we found ourselves faced with interesting and unusual takes on some local classics. They took awhile to arrive, especially given how few people were in the restaurant, and, the provoleta, my favorite grilled cheese, was underseasoned – it seemed to have just been grilled and then topped with a few arugula leaves. Fancied up as it were, but part of what makes provoleta so wonderful is the dousing in olive oil, oregano, and a touch of hot pepper flakes. This was pretty, but bland. The chorizo was quite good, and served with a little chimichurri, a nice touch – in fact, each of the normally unadorned items had its own sauce. The reasonably good empanadas served with housemade hot sauce – mild, but at least a touch of a kick – I'm actually used to empanadas back in New York at places like Ruben's that are served with hot sauce regularly, so this was very nice; and, a small plate of slightly fatty and chewy kidneys topped with a salsa criolla, more or less chopped onions and tomato.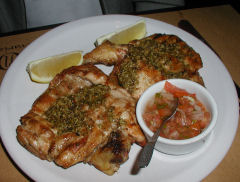 We had to wait again, in fact it took well over half an hour between when our appetizer plates were whisked away, our silverware swiftly reset, and the arrival of our main courses. We did, however, at that point find the provoleta's missing oregano and olive oil. It's always nice to find things you misplaced. Except, perhaps, when you find them on another plate at the dinner table. In this case, the pollo a la parrilla, a whole chicken breast flattened, grilled and topped with several tablespoons of dried oregano leaves which had been soaked in olive oil. Scraping this pile of army green foliage to the side, the chicken breast itself was flavorful, a trifle overcooked but not badly so, and had certainly picked up more than a hint of oregano.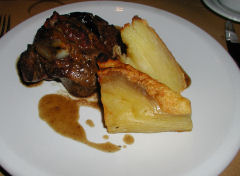 Our other entrée, the house special, was the lomo evaristo. Described as a lomo (sirloin), split and stuffed with a filling mixture of black olives, roasted red peppers, and shallots, it sounded quite good. It did turn out to be a very good quality piece of meat, and it was cooked to a perfect medium rare. It was even well seasoned. "Split and stuffed" however, is a bit of a misrepresentation. This active sounding preparation consisted of a narrow incision on top of the already grilled steak. Poked into that incision was a single black olive, cut in half. Neatly laid aside this olive were two matchstick sized strips of roasted red pepper, and two inner cores of shallot – literally having had all the outer layers peeled off so that all that was left were two pea sized pieces. Tasty, but certainly not what we were expecting.
Overall, we enjoyed the relaxed and friendly atmosphere, though I think the kitchen probably needs to do a little less relaxing and a little more attention to both detail and speed. The food was decent, though, as noted, a touch pricey in comparison to other parrillas in the area. I particularly liked some of the extras like the offering of sauces with appetizers, and a decent wine list.