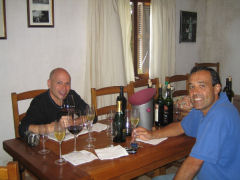 Buenos Aires – Whew! One last posting involving Uruguay for the moment, and then on to a couple of new Chinese restaurants, just for something different. The photo, by the way, was sent to me this morning by Ana Pizzorno, it's me and Carlos Pizzorno tasting through their wines. I get asked regularly what going to Uruguay is like, are the people different, is the food different, etc. Oftentimes the person asking is a local here, who has just never been across the river. I find that fascinating in and of itself. Coming from a society that's very mobile, where people are constantly visiting nearby towns, where if you're near to a border, i.e., Canada or Mexico, crossing it is not something that requires much thought. But I have met folks here who've literally never left the city of Buenos Aires in their lives. (Though, I admit, when I went off to grad school in New York City, one of the women in my class, at age 30-something, had never left the island of Manhattan in her life, except once on a school trip as a child to visit the Botanical Garden, and once for her grad school admissions interview in Brooklyn. I remember being stunned by that. When her family vacationed as she was growing up, they did it by checking into a hotel in another neighborhood of Manhattan. Going to school in Brooklyn was exotic in her worldview.)
So, this will be a generalization on what I find different in Uruguay. Most noticeably, Uruguayans are amazingly friendly and eager to go out of their way to be both hospitable and helpful. While I find some of that in Buenos Aires, it's a whole different degree. In general, Uruguayans have no problem inviting you into their home and chatting about virtually anything and everything in their lives. Argentines tend to be paranoid. Giving out your home address, let alone inviting someone over to your place, is tantamount to a declaration of deep intimacy. Getting personal information out of a porteño is like performing a root canal. Uruguayans are, I think, born with a mate in their left hand and a thermos tucked under the left arm. Some of them are capable of pouring another cup by tilting just so, without using their right hand. They drink it all day long, every day, starting as kids. It's also more of an individual thing, as opposed to the Argentine custom of passing a mate around the group, including people they've just met. In fact, while I'm sure it happens, I've never seen or heard an Uruguayan offer another person a mate – you either have your own or you don't – an intereresting reversal of the above mentioned level of intimacy with friends or strangers. Uruguay is, in general, more expensive than Argentina, not by a lot (other than in Punta del Este, where it's a lot), but just enough to be noticeable – it can be hard to tell because of the exchange rate, which is currently a little over 7:1 to the Argentine peso, making it roughly 22:1 to the dollar. There's very little unemployment in Uruguay, a lot of that is just because of the size of the country, and partly because of, very simply, a different work ethic.
—————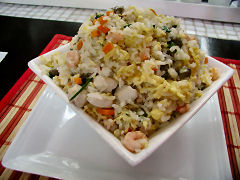 I've been in the mood for Chinese food the last few days. I started off on Monday by dropping in at a place I've been passing by for months,
Dragomagno
, at Marcelo T. de Alvear 1735 in Recoleta. It's sort of a gleaming white and red takeout place, with a couple of stools at a counter facing into the open kitchen. They advertise themselves as Chinese Fusion Cuisine, though I'm not sure what they're fusing with, it seems pretty straightforwardly Chinese to me. Perhaps different regions of China? Perhaps it's just a marketing ploy? Either way, I hopped up on a stool and ended up lunching on a couple of quite good springrolls and a very prettily presented bowl of excellent mixed chau fan. It's kind of fun watching the cooks prep and play in the kitchen, they certainly seem to be having a good time. And, I live in their delivery area, so I see more food coming my way in the future. 
[Closed.]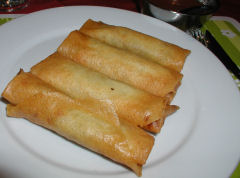 Then, yesterday, we were hungry and decided to try a new place that we'd spotted in the neighborhood. It has been open for a few private parties only over the last month or so, and the folks inside looked like they were having a good time, so we've been eagerly awaiting its opening. We walked over to Long Feng, Larrea 1285 in Barrio Norte, to see if they were ready for customers, and they were. In fact, we had the distinction of being their first customers to come in and sit down at a table. They'd opened on Monday, and had a few calls for takeout or delivery food, and that was it.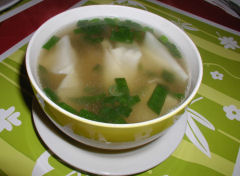 From talking to them, it seems they've been delayed by getting various distributors in place, it turned out that they were actually limited on which menu items they could serve because they just haven't gotten many of their ingredients. After a couple of "sorry, we don't have that yet" answers we asked what they did have and went from there. These were among the better springrolls I've had, anywhere – packed with meat, onions, and a touch of cabbage. The dipping sauce was a little thin and uninteresting which is a shame given the quality of the rolls. [Closed.]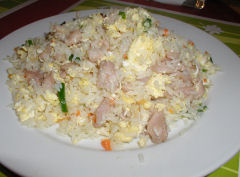 A bowl of wonton soup was made with excellent chicken broth, lots of green onion, and a generous helping of quite good wontons. Plates of chau fan mixto and chau fan pollo were both quite good, though I would say that the bowl I'd had at Dragomagno, noted above, was notedly better. The plate of one of their house specials, cerdo saltado con pickles chinos, or sauteed pork with chinese pickles was a really delicious take on a sort of pepper steak dish.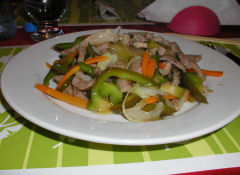 The vegetables weren't really all that pickled, just tossed with a sauce that was slightly vinegary, but that was probably more interesting than what we thought we were going to get. We'll be looking forward to them being up and running at full steam. The planned menu appears to offer at least a limited line of dim sum which will be a welcome thing, I haven't seen a place that offers traditional dim sum in Buenos Aires before. The staff is friendly, the place is very pretty, with a somewhat ornate Chinese lantern motif outside and a very soothing green, springy sort of decor inside.