Punta del Este – I'm going to hit you with a third post today – I want to finish off writing about my trip to Uruguay and move on to new things back home, and, I'm stuck at home waiting for the police to show up. No one did anything wrong, but in order to get a longer term visa I need what's called a certificado de domicilio, a certification that I actually live somewhere here, and that I've been seen in my own apartment – to get one, the government requires that someone from the police department come to my home and verify that I am me and that I am in the place that I claim to live. Other than waiting, I expect it's a relatively simple procedure – certainly arranging for it was, after figuring out which comisería was the station precinct house for my neighborhood, I walked over yesterday, sat in the waiting room for half an hour, then had a five minute conversation with the desk sergeant, she filled out forms, told me someone would come by between 9:00 a.m. and 2:00 p.m. today, and I left. (He came by while I was writing this, around 1:00. Very nice, clipboard, stack of domicilio slips, chatted a minute, looked at my passport, signed and handed me my slip, made a notation on his clipboard, left.)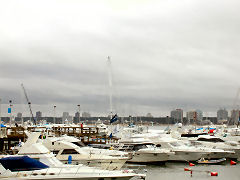 So, back to Saturday, and we left behind my new friends at Viñedo de los Vientos, and headed east. Another hour plus drive and we reached Punta del Este, the playground of the wealthy from Uruguay, Argentina, Brasil, and other parts of the world. It's probably the most expensive place to hang out in South America, packed with beaches, resort hotels, trendy restaurants, and a whole lot of rich people. We were headed for the gleaming new Conrad hotel and Uruguay's first Concurso del Chefs. I didn't have a clue what to expect, though I had some vague images of chef competitions that are a mix of other events I've been to and watching too much Iron Chef (original, not America). This event was a joint promotion of INAVI (the government wine folk), INAC (the government meat folk), and the Ministry of Tourism. Let's just say, it wasn't like anything I thought it would be.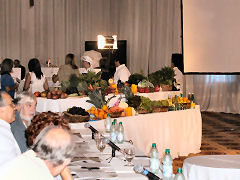 I couldn't quite understand how an event with a mere 12 executive chefs competing for the best chef in Uruguay sort of thing was scheduled from 4 in the afternoon until 11 at night. I had visions of elmination rounds and teams of cooks. Instead, an hour of milling around and setting up, various booths showing off Uruguayan products. A room setup for 200 spectators, less than half of which was filled, and most of that by invitees or press like myself and friends and family of competitors. And wait, those 12 chefs, they look so, ummm, young. Those are Uruguay's dozen top execs? Screened via competitions throughout the country over the last several months? This nervous group? It didn't take long to get a handle on the actual event…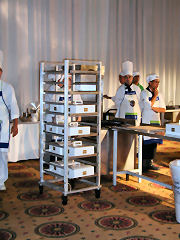 Here's the rundown. The twelve chefs are more cooks, chefs in training to a certain extent. Part of the entry regulations was that no one could compete who had more than three years of cooking experience in a professional setting. Most were pretty close to right out of cooking school. A welcoming speech was given, introducing the dozen, and introducing the panel of seven judges, a mix of food critics, chefs, and government types. No explanation of the competition or what led up to it was given. Then, the chefs were "certified" by an escribano, or notary public – they had to produce their documents and checked to make sure they were who they said they were. They were each then assigned a randomly numbered "mystery box". Each box contained one of twelve cuts of meat from the Uruguayan standards, they had the full list in advance, it included various cuts of beef, lamb, and ñandu (South American ostrich). They were able to wander around and look over the produce table and refrigerators full of other items. The whole event was being broadcast onto a large screen so the audience could see what was going on from two different cameras, one stationary and one roving, plus a t.v. crew from Brasil mucking about, and half a dozen photographers.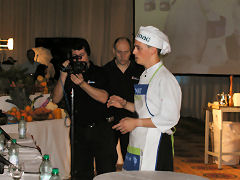 Then, the first four took the stage, as it were. One by one these four were called out. When their name was called they opened their box and, so to speak, pulled out their meat (vacuum plastic wrapped, of course). They had a maximum of one minute from that point to present themselves in front of the judges. At that point they had to state what they planned to prepare, including all garnishes and sauces. They also had to state how they planned to present it, along with what wine they would serve it with. Nothing like pressure! Then the judges asked questions, clarifying various points about plans, presentation, etc. The judges also kept chatting with each other and folks who kept jumping over the rope to say hi to them, which meant most of them missed half this presentation and when it came their turn often asked questions that had already been answered once or more. The judges did make notes, and I gather the final presentation was judged partially on the initial planning as well – in fact, one competitor presented himself midway through back at the judges table to announce he'd made a change, and they spent another five minutes grilling him about why he wasn't doing it the way he'd originally stated. Nothing like discouraging creativity while cooking…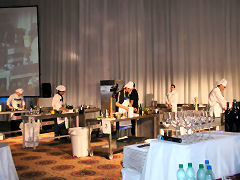 After that, the competitors collected together their various vegetables and such. It appeared as if they were limited to one trip to the vegetable table – I didn't see anyone return to it, and they were very careful about their selections, taking as much as five or six minutes. Once they were done, they began cooking at their individual station – no assistants, using their own knives, and some of their own equipment other than basic pots and pans. Then the second person began the same process. While the chefs were cooking, the judges got up and wandered around in the kitchen, watching, but not talking or touching. From what I was able to gather, they were each given up to two hours from the moment their name was called until they had to present their dish. One dish. They could finish sooner, and in fact, in the first round, chefs #3 and #4 finished well ahead of chef #2, and as soon as done, took their plate to a table in front of the judges. Then they selected a glass of wine from unlabeled bottles – all they knew was that all were Tannat, and they had a choice between young and older, oak or no oak. The judges then made notes about the presentation, and proceeded to pass the dish on down the line to taste it, making further notes. We only stayed for the first round and the very start of the second, so I don't know the results… but I do know why it was scheduled to take seven hours!
—————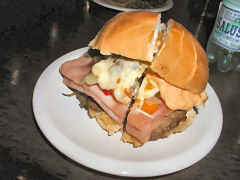 Montevideo – After our rather large lunch, neither of us could face a huge multi-course dinner. I asked José Luis if he knew of a place for really, really good chivitos. While in most parts of the Spanish speaking world chivito means a baby goat, in Uruguay it means a particular type of sandwich. Chivito stands are ubiquitous, but, with his eyes lit up, he announced we were going to the best, if I didn't mind waiting the two hour drive back to Montevideo. Chivitos Marcos is now a four-shop operation, but originally started out with one small shop, nearly 20 years ago, we hit the one at Dr. L.A. de Herrera 1186 in the Punta Carretas district as it was only a couple of blocks from the hotel. A chivito is a sandwich that Dagwood would envy. A thin (½ centimeter) slice of steak, usually loin or rump is tossed on the grill and browned on both sides. It is then topped with a slice of smoked ham. This is placed on top of lettuce and tomato on a bun. It is then topped off with your choice from an array of toppings – olives, pickled peppers, pickled vegetables, onions, red bell pepper – and a choice of different mayonnaise based sauces. I basically took mine with a little of everything, and then, of course, topped it off with salsa golf. Then several slices of mozzarella are laid across the whole thing and it's stuck under the broiler until bubbly and slightly browned. The top of the bun is slapped on top and it's stuck on a plate in front of you. This isn't wine food, so we split a large bottle of Uruguay's national beer, Zillertal Premium – simple, good, refreshing, and perfect for this sort of sandwich.
—————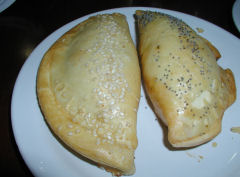 I've said I'll try any empanada, anywhere, so when I found myself at the Montevideo airport on Sunday awaiting my flight, and realized I hadn't tried an Uruguayan empanada, nor had I eaten yet, what was there to do but sit down at the airport cafe and try a couple? They are, indeed, different. Since these are the only ones I've tried, I don't know if this is typical Uruguayan style, a bit more exploration is in order in the future. The crust is much more breadlike than what I'm used to, sort of thicker, softer, and slightly spongy, like a good dinner roll. The outsides are coated with seeds – poppy or sesame were the offerings there. The filling – the meat empanada was basically solid ground beef, a touch of chopped egg, and just a hint of hot pepper; the ham and cheese was pretty much just filled with finely diced ham, a little onion, and just a coating of cheese on the inside. Decent, but nothing special. Other places will have to be checked out.
—————
I flew back from Montevideo, landing at the inner-city airport, Jorge Newbury. I hit the migraciones desk, and hit a wall. And I wasn't the only one. The officer went through my passport with a fine tooth comb, so to speak – adding up my stays, checking all the dates, etc. She then informed me that it was "obvious" that I was using a loophole in the Argentine tourism visa law to live here, and that unless I had a valid reason for entering the country at that moment, she was going to deny my visa. I told her that I'm researching a book on food and wine here and in Uruguay (which I am, but isn't my main purpose here – that, of course led to an animated five minute conversation on the food and wine). At that point she gave me the visa, but told me that "due to the attention that Argentina is getting in the American press about using tourist visa renewals to live here" they have been told to crack down on people doing so. She wouldn't tell me exactly how long the total time or total number of entries they were looking for – but she suggested that I shouldn't expect to have my tourist visa renewed again. The whole conversation was very polite, and at the end she suggested that if I wanted to continue staying here I should either apply for residency or go to migraciones main offices and ask for a special "research visa" to stay here and continue working on my book. Luckily, I should actually have my residency within a few more weeks (as noted at the top), unless something goes wrong, but it's certainly a red flag, and reason for concern for those of us who are living here under this "loophole." Thank you New York Times and New York Magazine…