Buenos Aires – This weekend has followed it's by now familiar pattern, with Henry's young niece showing up unexpectedly on Friday afternoon to spend the weekend, out of mom's hair, so to speak. As the resident computer person, it has fallen to me to design and print the invitations and other sorts of papery things for her 15th birthday celebration that is coming up soon. Personally, I think I did a nice job – maybe I'll scan them in and show them off here one day – possibly on the post after the fiesta – a sort of start to finish kind of thing. We'll see. Friday and yesterday had us at the dressmaker's shop doing all the fitting and adjusting sorts of things. That put us in the Abasto area of Once, and we decided, no surprise, to try another one of the numerous Peruvian restaurants that line the streets.
I'd vaguely remembered seeing a restaurant with a reference to Trujillo, Peru, where Henry and family are from, on its signboard – and after a little wandering we came across it, and settled in at a table at Los Trujillanitos, Corrientes 3564. There is something remarkably similar about most of these sort of homey, family-run, casual Peruvian spots in the area. While this one offered a few specialties of the area around Trujillo (but, for some reason not on Saturdays – we'll have to return on a Monday for it's "famous" Shambar, a sort of locro-ish stew), most of the menu was the usual suspects.
When visiting the "Ciudad de la Eterna Primavera" (City of Eternal Springtime), as it is also known, a "must" is the "Shambar", a traditional dish prepared specifically on Mondays, combining "mote" (boiled grains of corn), beans, wheat, pork, "cancha", coriander, red pepper and onions.
Los Trujillanitos is not remarkable for its decor – salmon mousse colored walls, stained yellow tablecloths topped with "grandma plastic", and the ubiquitous television mounted above the door – the channel being constantly changed as the bored owner looked for something interesting enough to watch. One difference, usually the television is tuned to a video showing Peruvian dances and music to entertain the tourist set and make sure the natives are homesick – here, the owner seemed far more interested in tracking down various gruesome news reports on accidents and murders. The menu is divided into the usual entradas and principales, but, also as is usual, there is really no difference – both are equally large plates of food. My best sense is that the former, the appetizers, are intended more for casual sharing at the table, followed by each person getting their own main course.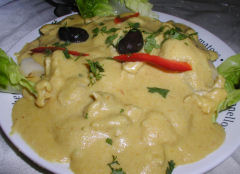 One of my favorite dishes is Ají de Gallina – shreds of chicken stewed in a peanut based sauce and served on top of potatoes. This version was particularly good, in fact other than the upscale version presented at Zadvarie DOC, the best I've had.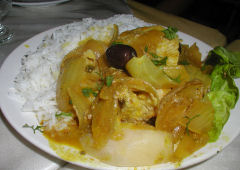 I'm not a big fan of escabeche in general, I usually find it too full of onions and vinegar, and this was no exception. Even Henry wasn't particularly fond of it, though normally it's one of his favorite dishes (something I find strange, since he hates vinegar), this one was dominated by a spice mix that I think was mostly turmeric.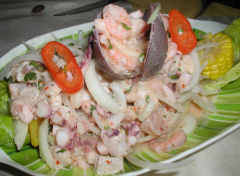 A shrimp heavy version of ceviche mixto, which is unusual, as generally the mixtos are heavy on the fish, with just a scattering of the shellfish – money savings and all that. The fish and shellfish in this were of just acceptable freshness, the seasoning was minimal, all in all a disappointment.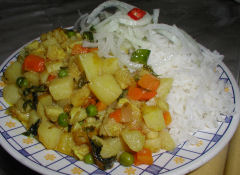 Strangely, given how readily I'm willing to dive into a plate of strange entrails, I have never really liked tripe. I can't even tell you why. The texture is not so different from other things like, say, intestines. The flavor is pretty non-existent in general, being a palate for the other items in the mix. But I generally have an instant dislike of tripe dishes. I once had a dish that I thought was passable at Casa Mono in New York. So, imagine my surprise at liking this dish of cau-cau, a stewed dish of tripe, potatoes, carrots, and peas, seasoned with a bit of turmeric, ají amarillo, and a lot of yerba buena, a member of the mint family (and, also the former name of the city of San Francisco)! We could have done without the end tab from the box of Knorr's caldo de gallina, or chicken broth, but at least it was only a small piece of cardboard stewed into the mix and not some strange bug, or rodent. The manager took the dish off of our bill (though no one, waitress or he, apologized).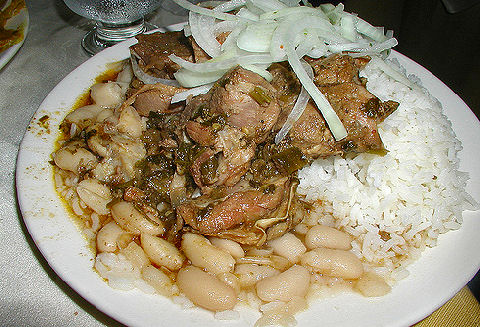 Every now and again it's a good idea to have a bit of goat. I'm not sure why, but I'm quite certain of it. Here, braised in a lightly seasoned gravy, topping stewed white beans and rice, an excellent dish!
So, Los Trujillanitos is a hit and miss sort of place, with a certain level of sloppiness that I wasn't real happy about. I'm curious about the Shambar though, and since we don't know of another place here that serves it, we might pop back one Monday just to try it.