Buenos Aires – Spittin' images, as they say. Walter Matthau was easy to pick out, right out of Grumpy Old Men. The other one, I keep wracking my brain and going between Buddy Hackett, a plumped up Phil Silvers, a plumped up Milton Berle, or Jonathan Winters if he looked more like the other three. They were both funny too. It'll come to me at 3:00 in the morning one day about 4 months from now. These two are the waiters who run the "dining room" (a term I use loosely here) at Rodi, Vicente López 1900, in Recoleta. This place is one of those famed institutions where local folks and expats who want good, classic food in a classic porteña resto-bar, know to come. I've also heard it described as "classic Spanish" by one local restaurant reviewer – but I have no idea what she was eating or what part of the menu she was looking at – the menu is all parrilla, milanesas, and pastas. Maybe there was a special dish one day.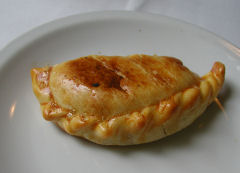 I was hooked up with a couple of new friends visiting from California (and not staying with me, amazingly enough), one of whom is seriously looking at moving down here – in fact he was off to meet with a real estate agent yesterday afternoon after lunch. We'd met up near Village Recoleta, the strip mall slash food court slash movie theater alongside the Recoleta Cemetery. A natural place to go seemed like Rodi – I hadn't been, though it turned out they had, and several folk have told me that one of the best lomo (sirloin) sandwiches is to be found there. We, of course, started out with a round of empanadas – baked, ground beef, lots of egg. Very simple, almost meatloaf-like filling, but quite good. It didn't strike me as a classic Argentine style filling,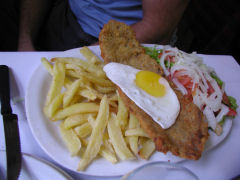 and it wouldn't surprise me to find out that the recipe has been intentionally geared towards the expat world.
On to the main courses – a simple fried fish with boiled potatoes and a salad for one of us; a milanesa de ternera al caballo, literally a veal milanesa "horseback style", but in point of fact meaning topped with a fried egg – in other words, a truly classic weiner schnitzel; and, the aforementioned lomo sandwich. Sorry, the photo of the fish didn't come out, my camera decided to focus itself on a lettuce leaf and the rest of the picture looked like peering through vaseline.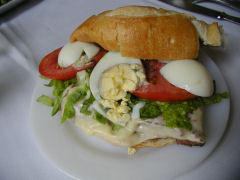 The lomo sandwich is indeed, one of the best I've ever had. The sirloin was tender enough to cut with a fork if I'd have been eating it plain, and absolutely delicious, so, in fact, I think I'll go back and try it as just a steak one day. As it was the sandwich arrived smothered in cheese, ham, tomatoes, lettuce, and hard-boiled eggs. I think if I had the sandwich again, I'd opt for plain too. Rodi offers bottled chimichurri rather than homemade, though it wasn't bad, it wasn't as good as many I've had. Then again, it was better than some.
Now, if I could just figure out who Walter Matthau's sidekick was…