Buenos Aires – Happy and productive, and Felix wouldn't want it any other way. This is Felix of La Olla de Felix, Juncal 1693, in Barrio Norte, a 30-some seat French bistro that he has been running for just over a decade. Rumor has it he was the former lauded chef of the Ritz hotel in Paris, but that at some point he simply wanted to go off and do his own thing. He's got a hit on his hands, and is quite popular with the neighborhood crowd, especially the gay, ex-pat crowd. Felix himself is wont to wander the dining room when not cooking, cigarette dangling from one hand, chatting with the boys in particular, in a strange polyglot of Spanish, French, and English. My friends tell me that when he's in the mood to head out to the dance clubs on a Friday or Saturday evening, he will often close up early so that he has an hour or two to take a nap and refresh himself from the day's labors. The place itself is cute as a button, and packed with bits of things he's collected over the years. His manager, Teri, ably handles the dining room, and has apparently been with him since the beginning. Prices are quite reasonable for the quality and the neighborhood – a standard plate running about 20 pesos.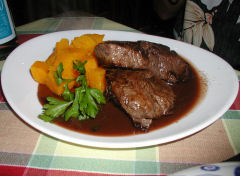 The menu is simple and short, and consists of whatever Felix felt like cooking that day (open for lunch and dinner, Monday through Saturday). Last night's selections were a single appetizer and four main courses. Appetizers, other than the ensalada mini that was offered last night, and is apparently not always offered, are pretty much non-existent at La Olla de Felix. He just doesn't do them. We availed ourselves of three of the offerings, skipping over the salad and the suprema cris. We weren't sure who Cris was, nor why Felix was honoring him or her with a chicken breast, but it sounded less intriguing than the other choices. We dug into a meltingly tender filet mignon, two filets in fact, sitting atop a pool of simple beef jus. The beef was easily the tenderest, most melt in your mouth steak I've had in Buenos Aires. But then, that's what filet mignon is all about, and it's a cut that isn't often seen here. This was accompanied by a mound of diced, roasted squash.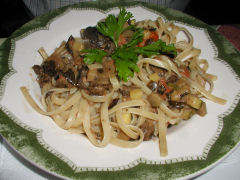 We also dug into a bowl of simple pasta, tossed with a bit of olive oil and a dice of mixed vegetables, more or less a ratatouille, and fresh mushrooms. Delicately seasoned with just salt, pepper, and some herbs, the sauce was delicious. The pasta itself was a trifle overcooked – but I've found that to be common over the years in French restaurants throughout the world – it is almost as if the French believe that pasta should be cooked until it is as limp as a wet paper towel.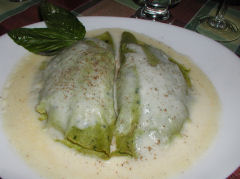 Still, the dish was fine, and not disappointing. The last of our trio, Crèpes de Pâté, was a creative, fascinating, and quite excellent plate of two stuffed spinach crèpes. The filling was a wonderful blend of roughly two-thirds finely chopped, lightly creamed spinach mixed with a finely seasoned and herbed pork-based pâté. The combination of the flavors, and the overall soft and slightly grainy texture, was perfect. The crèpes were paper thin and dead on correctly made. A simple béchamel sauce finished the dish brilliantly. There's no winelist at La Olla de Felix, instead you are offered a choice of "white, Malbec, or Tempranillo" and then a bottle of whatever of those is at hand is brought to the table. We enjoyed a simple, black raspberry and spice flavored Bodega Nofal Tunquelén Malbec 2003.
We moved on to desserts – a simple and tasty marquise de chocolate, good but nothing special, and Felix's justifiably famous tarte tatin. The latter was a perfectly cooked, just lightly caramelized, apple upside down tart, as a good tarte tatin should be. It was topped with simple vanilla gelato, and was quite simply, one of the better of these I've ever had.