Buenos Aires – Back in 1991 I was attending Peter Kump's Cooking School in New York, making some vague attempt at refining the cooking skills I'd learned from my mother and, separately, from "Papa John" Falsetta (that's another whole story). I don't remember the genesis of the idea, I think it was a conversation between myself and my friend Robert, who was in the midst of launching Genre magazine with his partner, but I started out with the idea to interview any famous gay chefs out there and turn it into a series for the magazine. The series never happened, in fact, only one interview ever took place – I managed, through the instructors at the school, to setup an afternoon with Craig Claiborne, the retired New York Times food writer. That interview didn't get published for nearly 13 years, when it appeared in the pages, posthumously (for Craig, not myself) of the now defunct Outlet Radio Network. Beyond just the memory of a truly wonderful, rambling conversation, I've kept with me the step-by-step preparation of his famed Corn and Crab Chowder. Interestingly, and it was part of the conversation, the recipe that has appeared in successive editions of his New York Times Cookbook, is not the one he prepares for himself at home, something he made a point of during our afternoon together.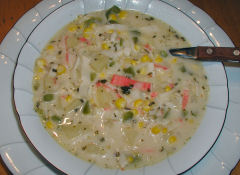 I have a tendency to modify the recipe to fit ingredients I have available to me – for example, last night when I decided to whip up a big batch, I realized I didn't have any celery in the house, so left that out (which would have been unacceptable to Craig – he was a devotee of what we called the Holy Trinity in cooking school – onions, red bell peppers, and celery – which is different from the classic mirepoix of European cookery of onions, carrots, and celery); I had green bell peppers instead of red (okay, my Trinity wasn't very Holy); I didn't have fish stock, but I've always preferred to make this dish with corn stock anyway because I like emphasizing the corn flavor; and I'd been unable to find any crabmeat – fresh or frozen – which meant I was stuck with surimi, those lovely glowing red and white fake crab sticks. Still, I wasn't making this for company, and I, strangely, actually like surimi. There, the truth is out. The soup, while perhaps more colorful than if I'd have used crabmeat, just didn't quite look right, but it was still really tasty – and I'm a big fan of a good chowder every now and again.
Crab and Corn Chowder

4 ears of corn, husks and silk removed
2 tablespoons of sugar
water

Bring a pot of water and the sugar to boil, you just need enough water to cover the ears of corn. When it's boiling, drop the corn in, cover the pan, return to a boil, and shut the heat off. Let it sit for five minutes, then drain and let the corn cool. Then cut the kernels off the cob and set aside to add into the chowder. Take the cobs and put them in a pot with a quart of water, bring to a boil, reduce the heat, and let simmer for 15 minutes or so while you prepare the rest of the chowder – this will be your corn stock.

3 medium potatoes, peeled and diced in ¼" cubes
1 large onion, chopped fine
1 red bell pepper, chopped (I used a green one)
4 stalks of celery, chopped (I left it out)
½ teaspoon red pepper flakes
½ teaspoon black pepper
salt to taste (I used roughly 2 tablespoons)
3 tablespoons of butter
1 cup of half and half
3 cups of corn stock (see above)
1 pound of crabmeat (I used surimi, chopped)
2 tablespoons of mixed chopped aromatic herbs (I like coriander, basil, tarragon, and parsley)

Melt the butter and cook the onions, potatoes, celery, and bell pepper in it with a little of the salt, until the onions are transluscent. Add the corn, hot pepper flakes, and black pepper and continue cooking for 2-3 minutes. Add the half and half, corn stock, and crabmeat – if you need a little more stock to adjust the consistency, go ahead and add it. Bring to a boil, reduce the heat, and simmer until the potatoes are cooked through but not mushy – about 10-15 minutes. Add the herbs and cook for another minute to release their flavors, add the remainder of the salt, to taste. Serve hot with a loaf of crusty bread! Makes enough for a main course dish for four. Craig liked to reserve a little of the crabmeat and some of the herbs until after the chowder was done and then use them as a garnish on top – I've never been good at garnishing.