Buenos Aires – I set out yesterday, late morning, with three objectives in mind. The first, to explore the wholesale cooking supplies neighborhood along the southern end of Av. Jujuy; the second, to continue my Paint By Numbers project with a wander down one of two streets that fit my theme in that area; and the third, of course, to find something interesting to eat. Tackling the easy one first – the wholesale area both is and isn't worth making the trip to. There are several colectivos that head out that way, as does the E-line on the subway, so it's really not hard to get to. I walked from Barrio Norte – along Pueyrredón which becomes Jujuy (and later Colonia), and it really didn't take all that long.
The zone is a four block strip of stores, along with the side streets for a block on either side of Jujuy, from 1200 (at Av. San Juan) through the end of the 1500s (at Av. Juan de Garay), which puts it squarely in Barrio San Cristobal. Roughly 3/4 of the stores are related to cooking supplies – ranging from small to large appliances, to utensils, to chefs' clothing, with some stores specializing more in housewares and others in restaurant gear. You will find, if you're willing to spend time going in and out of stores, a far more wide ranging selection of things, and perhaps that one special item you've been looking for, if you shop in this area. You will not, however, save any money. Virtually every item has two prices on it – a wholesale price and a consumer price. I comparison shopped a half-dozen items (a Kitchen-Aid mixer, a local brand mixer, chefs' knives, and a couple of different types of pots and pans) and found that the consumer prices were no different than I see elsewhere in the city. And, in some ways, it feels worse, because there is the glaring wholesale price in front of you. Now, I know that at wholesale price they're not losing money, but I couldn't figure out the difference to reach the retail prices, it certainly wasn't a flat rate, and varied from about 10% above the wholesale to some items that were nearly 40% above. E.g., the Kitchen-Aid mixers jumped from 1800 pesos to 2500 pesos, and I've seen them in the 2300-2400 peso range in other stores, though rarely with the full range of the brand's colors available as here; while in the same store, a small restaurant grade salamander (above stove broiler) only jumped from 158 pesos to 177 pesos – maybe because it's the sort of thing they don't think consumers are likely to buy?
—————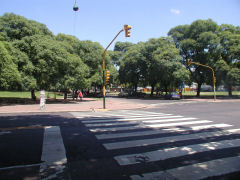 I had the option of two different streets that fit my criteria of being named after famous dates in local history. I had plenty of energy after my wander along Jujuy, so I decided to take on the longer of the two, 24 de Noviembre, a 24 block primarily residential street that begins at Parque Patricios and stretches back through the Parque Patricios zone, into San Cristobal, and finally into Once, ending at Av. Rivadavia right off the back end of the Once train and bus station. There unfortunately isn't a huge amount to say about the street itself,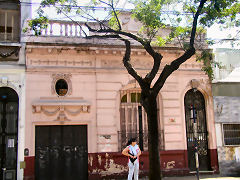 as it really is a predominately residential street, and one with minimally interesting architecture. Towards the southern end, in Patricios and Cristobal, most of the houses are smaller, two-story affairs, and a mix of blocky, flat-roofed buildings built mostly around the 1920s, to strips of more modern row-houses, probably built in the 1960s. There are scattered small warehouses, a few schools and churches, and the usual sort of neighborhood coffee shops or takeout lunch counters.
November 24, 1849 – Governor Juan Manuel de Rosas of the Province of Buenos Aires signs an agreement with the British to end the blockade of the Rio de la Plata. I haven't been able to find out much about this, but it appears that it may have involved a joint British and French endeavor to block the port access to the river, in response to de Rosas prohibiting their access to navigating up the river, that was, after two years of conflict, settled by treaty. This will take a little more research…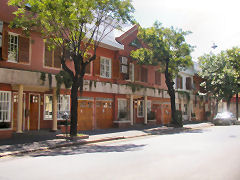 One interesting feature I saw more than once was the setup of long strips of apartments set back from the streets along narrow, gated mews, something I haven't seen elsewhere here. At #1926 there's a wholesale to the public meat and cheese store, where as best I could tell, you can walk in and buy at wholesale price plus tax, a wide variety of meats and cheese. The one drawback appears to be in the quantity world – you'd better be having a party, as everything was being sold whole – i.e.,an entire prosciutto, 2-3 kilo wheels of cheese, most of a side of beef – you get the idea. While walking the area you'll first pass through an area that is the parish, or at least few blocks dedicated to, San Vincente de Paul and then on to one of the San Miguels (my usual source for listings of catholic saints has 9 different Saint Michaels plus another dozen Blessed ones), and finally ending up in the primarily Jewish quarter with several social and religious societies. Along the way there are several small transient hotels, this Miami Vice looking apartment building, and this glowing red and orange alberque transitorio.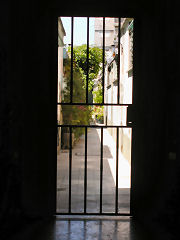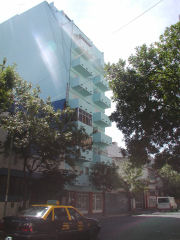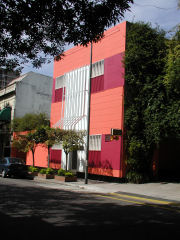 Albergues Transitorios are not unique to Argentina, they are, very simply, short-term stay hotels. They range from semi-respectable sorts of motels where one can flop for a day, to the much more common hourly rate hotel for amorous encounters. There are numerous of the latter, and they can be found in virtually every barrio in the city – given the reasonable paranoia of taking someone home after just having met them in a bar, or on the street, and the generally suspicious nature of folk here (people are regularly surprised when I'm willing to tell them where I live), guidebooks and websites that specialize in this sort of thing highly recommend never taking someone home with you. And, of course, most hotels don't permit overnight "guests" to stay in your room, not to mention, people would talk… Hence the popularity of the albergue transitorio, where you can, apparently, generally find a clean and safe environment in which to have an encounter, and then move on anonymously.
—————
At the corner of 24 de Noviembre and Juan de Garay I found myself feeling rather peckish, and stopped in at Restaurant San Miguel, Juan de Garay 3196. Clearly a neighborhood hangout, with a large percentage of the crowd on a first name basis with the staff, I felt like a semi-intruder in someone's home. The decor is sparse – strange vivid purple trim on the windows, a few too many ceiling fans, faux granite tables and floors, trophies and pictures from the owner's participation in tango competitions, water-stained ceilings, and for the most part, staff that seem so much to belong to the space that they very well may have been there for several decades. Customers too blended right in. There was a rotating table of bus and taxi drivers who seemed to come and go as they ate their meals with the table never emptying out completely, paying for their meals after a chat with co-workers and then moving on.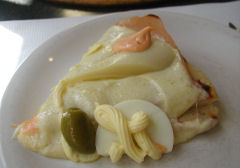 The restaurant is a combination pizzeria and parrilla, and, given my penchant for pizza, I opted for the former. The house specialty is the La San Miguel, which I hesitated to order, though my waitress assured me that it would be bárbaro, or "way cool." It was very possibly the oddest couple of slices of pizza I've ever had, though at the same time, not bad. I won't go for "way cool," and I probably wouldn't order it again should I find myself back at San Miguel, but the combination of tomato sauce, thinly sliced ham, a thick slab of mozzarella, slices of hard-boiled egg, wedges of heart of palm, whole green olives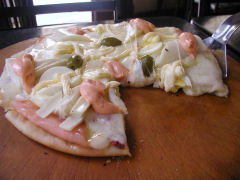 (I still don't get the whole olive thing here – pit them already!) which were supposed to be whole black olives, all topped with generous squiggles of salsa golf and mayonnaise. No doubt a cholesterol nightmare, but interesting nonetheless – and the dough and sauce were excellent, the latter loaded with garlic and oregano. I think I should have gone with my non-specialty of the house choice of the Española, a pizza topped with chorizo cantimpolo, roasted red peppers, black olives, fresh tomato, and lots of garlic. Maybe next time. A whole "chica" pizza is a bit large for one person, coming it at around 9-10″ in diameter, and the large is about a 15-16″ affair, so this is definitely a place to go for pizza with at least one other person.