Buenos Aires – We've ordered food for delivery several times from Sabor Norteño, La Rioja 186, in Once, but never actually been there. We were wandering the area the other day looking at dresses. You might ask why. And I might tell you. Henry's niece, Viviana, is coming up on her 15th birthday. Like we celebrate "Sweet 16" – here, and I gather throughout Latin America, they celebrate 15. It's a pretty major occasion – Henry and his family are talking about close to 100 guests, renting a hall, food, some sort of multi-layer cake (we also stopped to see a pastry maker friend of his and look at some options), gifts, and, of course, some sort of fabulous dress for the birthday girl. She's actually due here today (surprise visit from La Plata I was informed about over my morning coffee) to take a wander with us and look at some possibilities. We're doing a bit of culture and class clash thing here – hints have been slipped in from several quarters that "as the rich uncle" perhaps I might pay for the whole shindig – I'm standing my ground with a "maybe I'll buy her dress as a gift for her" – after all, she has her own padrino, or godfather, plus two parents, and a few other relatives in the area, maybe they can tone the whole thing down a bit to fit the family budget.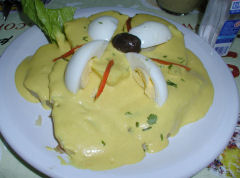 Back to Sabor Norteño, and a bit of Peruvian food. One of the things I like about the food is that they're not at all afraid to make it spicy. I also kind of like the room, it's casual, a little bit cafeteria-ish, and a little bit homey at the same time. Midway through lunch a group of musicians came in, setup, and started playing and singing. I gather that's a regular thing on weekend afternoons. I recommend not sitting at the table right in front of where they set up. It's a little deafening. Service is fairly efficient and very friendly, prices are average for the food and the neighborhood. We started off with a shared plate of one of our favorites, papas a la huancaina, here especially spicy and good.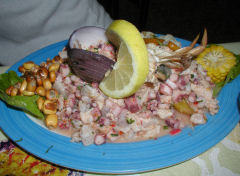 We moved on to a huge platter of ceviche mixto. At most places the mixto would be mostly fish, mixed with maybe a few shrimp and mussels. Here there are shrimp, mussels, clams, crab, squid, and octopus all jumbled together. The flavor is great, if we had any criticism it's the use of white onions instead of red, which are both more traditional and, simply, taste better on ceviche. But, for whatever reason, they're harder to find here. Although some of the ubiquitous Peruvian herbed hot sauce was served on the side, the ceviche is plenty spicy enough without it.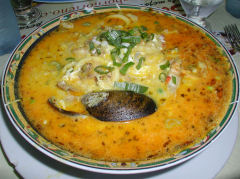 Chupe, in this case of the mixto sort, is a bubbling cauldron of soup that is packed full of all sorts of things. In this particular case, I'm not sure I want to know. I kept spooning into it and coming up with things that looked like they were better left buried at sea. I know there was a variety of shellfish and fish, including a crab (with no way to crack it open provided), lots of shells without anything attached – possibly just for flavor, a fish head or two, some soft and squishy things that I have no idea what they may have been at one time, and a huge, huge, amount of fat – you can see it floating on the top. And as the soup cooled, more fat floated to the top and began to congeal. While the flavor of this chupe was good, the substance was just a bit too off-putting and too greasy to eat much of. Our only disappointment so far in the food from this place.