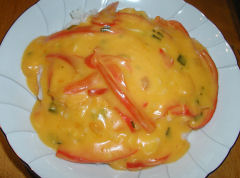 Buenos Aires – Taking a break from restaurants (though, I'm out to a new place tonight with friends – I believe we're going to an Armenian restaurant, so hopefully I'll have some fun things to report) gives me a chance to go back and play some more in the kitchen. For lunch today, we wanted something simple, but tasty, and easy to make – but then, who doesn't? While I'm sure this dish would be pretty spectacular if I'd have made shrimp bisque from scratch, and used regular sour cream, that would have been neither simple, nor fitting in with my cutting back. I did use one off-beat ingredient, powdered tomato, a seasoning that I particularly like (see, I'm not totally against new ways of using old ingredients) – if it's not available, just take some sun-dried tomatoes (not packed in oil, you want them dry) and powder them in a food processor or spice grinder.
Rice with Shrimp Bisque Sauce

2 cups of shrimp bisque (I used Knorr's packaged "crema de camarones," dissolved in hot water)
1 medium red bell pepper, julienned
1 tablespoon of butter
1 large clove of garlic, chopped
1 teaspoon of tomato powder
½ cup lowfat or fat free sour cream
salt and white pepper to taste

2 cups of cooked white rice

Saute the bell pepper and garlic together in the butter (or olive oil) until soft, add the bisque, sour cream, and tomato powder, cook over medium heat, stirring regularly, until you get the consistency you want (add water if you need, otherwise let it thicken). Adjust the seasoning. Serve over rice. Makes a perfect lunch for two with a salad on the side.