Buenos Aires – It's a personal view that one ought to be a trifle careful in the naming of a restaurant. After all, like anything, the name advertises some message to the public, and they will draw conclusions from it, whether it's your intent or not. Cholita is a word that by itself generally is used to refer to a mestiza, or female "half-caste," i.e., in the Andes where the term originates, someone of part Indian and part Spanish heritage. It can also refer to a peasant, or poorer, working class woman. Here in Argentina, if it's used at all, it's fairly pejorative. There's a restaurant named Cholita back in Brooklyn, that serves peasant home-cooking style food from Peru, and that seems reasonably appropriate. To come across La Cholita, Rodriguez Peña 1165, in a fancier neighborhood like Recoleta, is to, at least in my mind, expect something similar.
However, La Cholita here is a moderately pricey, decent quality parrilla, or steakhouse. The food is entirely Argentine, and local style – no "regional" dishes are offered, no peasant food. Just grilled steaks, innards, and chicken, along with the usual range of salads and appetizers. In fact, other than a few cold dishes like salads, everything at this locale comes directly off the grill – todo a la parrilla is stated right on the windows of the restaurant and on the menu. Visually, the place is a virtual twin of its next door neighbor, Cumaná, which I've reviewed before (and which has all those peasant, regional dishes), long, narrow, heavy wooden tables and wicker chairs, white paper on each tabletop, and even the same basket of crayons. The open kitchen at the back could be a mirror image. The lighting is so dim as to make it near impossible to read a menu – 99% of the lighting comes from a small tea candle on each table, the balance comes from extraordinarily dim bulbs hanging high above (10 watt maybe?) and a touch from the grill area at the back.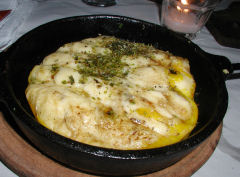 There's no air in the place – it was stiflingly hot, without air conditioning or ceiling fans, and with no rear opening, no airflow even with the door propped open at the front, and everything gets heated from the kitchen and the candles. There's a second, upstairs dining area as well, that unfortunately requires you pass by the bathrooms at the top of the stairs, which, bluntly, stink.
Now if all that sounds like I'm about to trash the place, I'm only sort of going to do so. I don't really like the setting. Service was inattentive, though at least when a waitperson was at the table, friendly. The food, however, was quite good. Really quite good. Thankfully, they have both takeout and delivery, because I'm not sure I'd want to sit myself down in the space again, or at least I'll wait until cooler weather. On the other hand, most of this type of food needs to be eaten straight off the grill. Of particular note – really good french fries, properly cooked, crispy on the outside and soft and warm on the inside, and scattered with herbs and chopped peppers.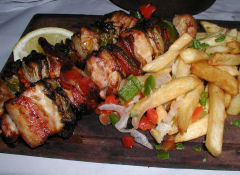 I do wish they'd salt them a little when they come out of the fryer, something no one seems to do here. Possibly the best provoleta I've had in Buenos Aires – lightly crisp on the outside, gooey and rich on the inside, and topped with oregano, garlic, and salt – cooked in a small cast iron pan rather than direct on the grill, which let it cook through a bit more than at some places. They also offer two additional versions which we didn't try, one topped with tomatoes, onions, and peppers, the other using a slice of goat cheese and topped with an arugula salad, which sounds quite interesting. Really excellent brochette de pollo, essentially a chicken shish-kebab – two skewers packed with chicken, onions, peppers, and thick slices of smoky, cured bacon.