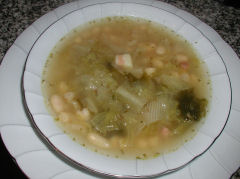 Buenos Aires – Anyone who's ever worked in a kitchen knows that there are moments when you're passing by an ingredient in the market and it suddenly leaps up and jumps into your shopping basket. It's sort of like the iPod, widescreen plasma television, or Soloflex, you suddenly find yourself at home with it, don't really remember buying it, and having to explain yourself to a disbelieving partner. Thankfully, a head of escarole is far less expensive, and I was able to get away with a sudden outburst of, "it's for soup!" Which for me, meant rummaging through the cupboards and refrigerator to show that indeed we had everything we needed for White Bean and Escarole Soup, a classic of Tuscan cuisine. We had no pancetta, but since the beans had to soak overnight, I had time to surreptitiously buy a slab somewhere in the midst of running errands the next morning.
White Bean and Escarole Soup

2 cups of large white beans, soak in water 12-24 hours
2 tablespoons of olive oil
8 ounces of pancetta, cut in ½" dice
1 medium onion, chopped
2-3 cloves of garlic, finely chopped
2 sprigs of fresh rosemary, chop the leaves
(or 1 heaping tablespoon of dried)
½ teaspoon of red pepper flakes
½ teaspoon of ground black pepper
3 quarts of chicken stock
2 more tablespoons of olive oil
1 head of escarole, sliced crosswise in 1″ strips
salt to taste

Over low heat, sauté the pancetta, onions, and garlic in olive oil until the fat on the pancetta and the onions are transluscent. Add the rosemary and the two peppers and continue to cook for 2-3 minutes to release the oils in the rosemary. Add the stock and beans, turn up the heat to high and bring to a boil. Immediately reduce the heat and simmer the soup for roughly 2 hours, until the beans are very soft – add a little more water or stock if the level seems to be getting too low, this is mostly your call depending on how thick you like your soup. Scoop out about a cup full of beans and mash or purée them with the additional olive oil, and then put them back in the pot. Add the escarole and turn the heat back up to return to a boil, cook for 10 minutes or so until the escarole is cooked through. Add salt to taste. Note: don't add the salt before this point as for whatever scientific reasons there may be for it, it toughens the skins of the beans and they just never seem to soften. There's enough salt in the pancetta to help the onions release their juices.

Serve with a good, rustic, country bread.