Buenos Aires – I realized last night as we decided on a casual dinner while we were out walking around in the neighborhood, that there are places that I don't stop to think about as restaurants. I don't mean them any disrespect, it's just that they're the kind of places where normally I might only stop in and have a cup of coffee and a croissant, or occasionally a sandwich or salad, and move on without thinking about it. They can be, however, of widely different quality levels, and I'm guessing that now and again it might be worth knowing if one or the other is worth trying or not.
Which brings us, last night, to Café Bercy, Pueyrredón 1585, at the corner of Beruti. In the past, it's been the place we stop for coffee or a snack when waiting for a doctor's appointment, as it's kitty-corner (I always wanted to use that in a written sentence) from Hospital Alemán. For the most part, a casual bite is what it's about, and I'd say the majority of folk stop in for little more than that, or a beer, or glass of wine. Still, they have a full menu, and now and again, I've tried something like a revuelto gramajo or tortilla española. I wasn't holding out a lot of hope for any major culinary experience, and indeed, the food is exactly what you'd expect from a coffee shop. Decently made, reasonably flavorful, and nothing special. They do have really good coffee and pastries though, so I recommend them for that!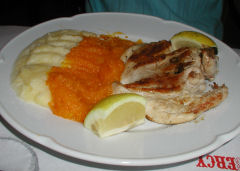 It does, however, give me a chance to point to two staple items on local menus. The first is easy, the puré mixto. It is the rare porteña restaurant that doesn't offer both a purée of potatoes and one of squash. And you may have a preference for one or the other. I like the contrast between them, and without exception, everywhere here that offers them also offers them as a half and half mix. Not blended together, but a bit of each on the plate.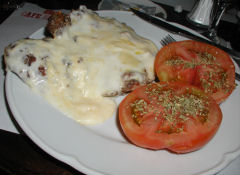 The other is the "suiza". I've mentioned various types of milanesas and supremas at various restaurants, and I'd say that the most common version that one of us orders is the napolitana, which is topped with ham, cheese, and tomato sauce. The suiza is topped with a mixed cheese and bechamel sauce. It's not quite as common as plain or napolitana, but it's seen often enough that it ought to be included in the "usual dishes available here" category. If made well, the sauce is creamy, smooth, and mostly flavored with the cheese. It can also be a bit gloppy and floury if it isn't made well. Café Bercy's falls somewhere in the middle.