New York City – Wow! The first post of 2006! Happy New Year all.
So let's cram a little of everything into this post. I know it's probably sounded like I haven't done much of anything but eat for the last few days since arriving here, but in truth, a large amount of my time has been spent in training and exercise – the real reason for my coming back to New York at this particular time of year is that tomorrow, after 7½ years of study, I'm testing for my blackbelt in kenpo. Wish me stamina!
Beyond food and wine, I stopped in the other day at the Neue Galerie to see the Egon Schiele exhibit. I doubt he'd ever be my favorite artist but it was quite fascinating. We've also been catching up on old or missed movies that in one manner or another have wandered into Frank's house – Mona Lisa Smile, completely predictable but nevertheless well acted and sweet; Town Without Pity, poorly acted, poorly written, and poorly directed, but somehow difficult to stop watching; Room at the Top, somewhat predictable, though with a couple of twists, decently acted, not bad; Finding Forrester, surprisingly well written, acted, and directed, and really a quite good movie, of course with Sean Connery in it, I should have expected that; and Girl With a Pearl Earring, beautifully written, directed, filmed, and acted, the best of the bunch. Staying with movies, though a little after the fact, just before coming to New York, Henry and I hit three movies in rapid succession – Chicken Little, badly dubbed into Spanish but still a cute story; Tiempo de Valientes, a quirky Argentine detective comedy that I think I managed to follow about 2/3 of, but fun (jokes and puns are, of course, one of the hardest things to follow in a new language); and King Kong, the new one, subtitled in Spanish, predictable, emotionally manipulative, sweeping, beautifully filmed, great graphics, hey, it's Peter Jackson, I liked it.
—————
Popped out to Brooklyn yesterday as Frank wanted to do a little shopping at Sahadi's, 187 Atlantic Avenue. If you live in NYC and don't know this place, it's the family run, friendly, and charming version of a Dean & DeLuca, Gourmet Garage, or Agata & Valentina. There's a bit of a focus on middle eastern and mediterranean products, and it's one of the best specialty food shops in the city, and far less expensive than most Manhattan stores. While we were out there we stopped in at Heights Chateau, 123 Atlantic Avenue, the wine shop that I used to manage, and arguably the best wine shop in Brooklyn. Picked up some wine and cognac for last night's dinner, I'll get to those in a bit…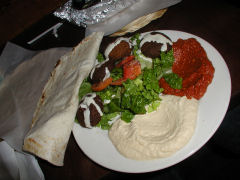 Lunch at Fatoosh, 330 Hicks Street, Brooklyn Heights. For falafael aficionados, this place is one of those "best kept secrets" that "everyone knows about." It's a small place, probably best for a drop-in or takeout lunch, there are only eight small tables for two. You'd truly be hard pressed to find better falafel sandwiches in New York City, especially if you order the full platter with its accompanying tahini, hummus, and the amazingly good roasted tomato hot pepper dip to slather into it. The huge pita bread (10-11″) are homemade and cooked over a charcoal fire. You can get a variety of other middle eastern specialties as well, and they make pizzas using the same pita bread that are delicious, even if their claim that they "invented" the charcoal broiled pita bread pizza is in dispute.
—————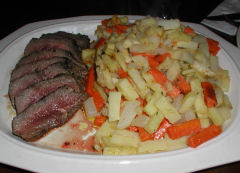 I have no real idea what to do on New Year's Eve. I've spent most of my career in the restaurant business. Last year was the first time I'd had the night off (and only after 10:00 when the wine shop closed) since the first year I moved to New York, and that was the New Year's Eve that ushered in 1983! That time, I went with the boyfriend of a friend to Times Square (the friend having taken off to visit family) to watch the ball drop. Every one in New York should do it once. Once. Last year I had just enough time to make it over to some friends' for a champagne toast and hanging out, and just getting around in the city was a nightmare. Frank and I decided to watch movies (see above) and have a quiet dinner in. We left a steak marinating in lemon, pepper, and onions for a day or two to get ready, and pan-roasted it to a perfect rare. We had some of the marinated mushrooms I made for xmas eve left, and used them to deglaze the pan and make a great sauce. And, we picked up a bunch of root vegetables to saute as the accompaniment – this was a dish I used to make when I was the sous chef at Sazerac House; I used to use it to accompany lamb chops, and also as part of our vegetable plate. All around yums!
Earlier, I'd picked up a couple of bottles of Allegrini "La Poja" 1998, one of my favorite wines from the Valpolicella region of Italy. I "discovered" this wine along with my friend Cliff a few years ago. We were both wine buyers for different restaurants, me for Felidia Ristorante, he for Gramercy Tavern, at the time. We were in Italy for VinItaly, the annual Italian wine trade show, and were invited by Allegrini's importer to be his guest at a dinner at the Allegrini estate. The dinner was an affair with numerous folk from all over, but afterwards, when the others had headed back to town, found the three of us seated with Marilisa Allegrini chatting. She excused herself and came back with a bottle of this wine, saying she'd like our opinion as it was a relatively new wine that she was just now making enough of to export a little, and she wanted to know if we thought it was sellable. We ended up drinking two bottles of it, I think it was the 1992 vintage. We also ended up taking the entire allotment of 50 six-packs that she had available to send to the U.S. and splitting them between the two restaurants (I think we did the same with the 1993 and 1994 until they were producing enough to expand their distribution). I've been a fan ever since, and the wine seems to get better and better every year. It's made from 100% of the Corvina grape, which is one of (and generally considered the best of) the three Valpolicella grapes, and is a big, dark fruit, spicy, incredible depth, long finish wine that is just amazing. It's sort of midway between Valpolicella and Amarone in style, and takes the best charateristics of each. I'd bought a couple of six-packs of the wine when I was at Heights Chateau and was hoping there was still a little left in the cellar – ended up buying two bottles, one for dinner and one to take back with me to Argentina.
Frank wanted an inexpensive bottle of cognac, and we also had grabbed a bottle of the Balzac V.S.O.P., which fit the bill admirably. Nothing amazing, but a nice way to end the evening, and a great bargain in the world of cognacs that won't cost you an arm and a leg.
Marinated Mushrooms

1 pound of whole button mushrooms, cleaned
1 clove of garlic, minced
½ teaspoon hot pepper flakes
1 small mild red pepper, chopped
½ cup of red wine vinegar
&#188 cup of olive oil
1 teaspoon fines herbes
1 teaspoon salt
½ teaspoon black pepper

Saute the mushrooms in the oil, garlic, and hot pepper flakes until they've given up all their juices and are lightly browned. Add the vinegar, herbs, salt and pepper and let marinate for at least 2-3 hours. Overnight is even better. These can be served cold or room temperature as a small salad, or heated and used as a great sauce for a steak.
Sauteed Root Vegetables

1 large carrot
1 large parsnip
1 large white turnip
1 small to medium celery root (celeriac)
¼ cup of olive oil
¼ cup butter
5-6 sprigs of fresh thyme
salt and pepper

Julienne the vegetables, keep them separate. Bring a large pot of water to a boil. Add the celery root. Bring back to a boil. Add the turnip. Bring back to a boil. Add the carrot. Bring back to a boil. Add the parsnip. Bring back to a boil. Boil for 1 minute longer and then remove from heat and drain. This is all because the vegetables take a little different length of time to cook. Saute in the olive oil and butter until they just start to get golden brown, stirring regularly. Add the leaves picked from the thyme sprigs, adjust the salt and pepper to taste. The vegetables should still be relatively firm. Serve on their own or as a side dish.