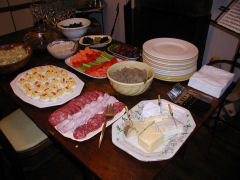 New York City – A fair amount of Saturday was spent cooking, some sort of Eve-festival, which, I was sure was going to involve another Virgin. But no, in fact, today's holiday wasn't even mentioned, other than in passing. But we'd decided to invite a dozen or so friends over to eat fun food, drink wine, and hang out. Unfortunately, only half of them came. We had lots of food left over. We drank a fair amount of bubbly, the Saint-Hilaire Blanquette de Limoux 2002, a really quite good bargain sparkler (usually about $8) from southwestern France, made from the Mauzac and Chardonnay grapes.
More than a century before champagne, the Benedictine Monks of the Abbey of Saint-Hilaire in the Southern foothills of Limoux had created France's first sparkling wine. Four and a half centuries later, Saint-Hilaire Blanquette de Limoux is still made in those same foothills of Southern France.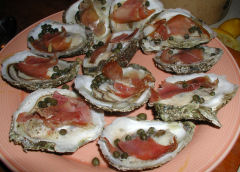 We made all the traditional Xmas Eve dishes – vinaigrette potato salad, marinated musrooms, chopped liver, deviled eggs, orecchiete with pesto, and a little dish Frank calls Oysters Rocca-Feller (his last name making up the front portion) – oysters broiled with prosciutto, capers, and parmesan, and topped with a squeeze of lemon. Throw in the usual sorts of things like crudité and dip, hot cherry peppers, cornichons, cheeses, salamis, and a bowl of grapes, and that's dinner. The friends who came (all who showed were from where Frank works) brought desserts – all chocolate.
My Chopped Liver

2 pounds of chicken livers
2 large white onions
4 hard-boiled eggs
3/4 cup olive oil
2 tablespoons of butter
salt and black pepper

Saute the chicken livers in the butter and ¼ cup of the olive oil, with some salt and pepper, until cooked through. Scoop out into a food processor. Finely chop one onion, and thinly slice the other in half-rounds. Take the half-rounds and add them to the pan in the oil and liquid left. Saute over high heat until really well browned. In the processor, puree the livers, then add the eggs and pulse until they are chopped and incorporated into the mixture (alternatively, you can just chop the eggs up and stir them in). Stir in the cooked and raw onions. Adjust seasoning, and add more olive oil until you get a smooth consistency – to your personal tastes.