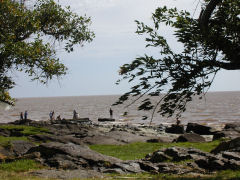 Colonia del Sacramento – For those who travel, it's not surprise that there are visas, and that these expire. Depending on the country, these expire after varying lengths of time, and can be renewed via various methods. In Argentina, a tourist visa expires every three months from the date you enter the country. Although I'm headed back to New York tonight, Henry's visa was due to expire in about a week, so we needed to get it taken care of. For those ex-pats or long term visitors who live in Buenos Aires the process is a common and very simple one. You hop on the ferry and take it across the river to Colonia in Uruguay. Have lunch, do a little shopping. Then you come back. It's really kind of silly and one almost has to wonder if the Buquebus ferry line gives some sort of kickback to the immigration folk. There are some odd procedures for once or twice a year going to a migraciones office and getting a new visa without leaving the country, but you can't do it every time and there are various stipulations on it.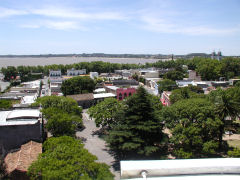 So, yesterday morning found us off and floating across the river on the "high speed" (60 km/hour) ferry that takes the 55 km jaunt to this historic little town. There's also a slow speed ferry for those who want to save some money (53 pesos each way versus 92 pesos each way), but it takes more than 3 hours to make the same trip! Last time when I visited with my friend Maureen we had iffy weather, it was winter time, and we got hit by a cyclone. It's summertime, the weather was fantastic, and we had a delightful afternoon. It's really a quite beautiful city, and we got to wander around, see the flowers and trees in bloom and leaf. The lighthouse was open, so we climbed to the top and took a few photos of the historic district.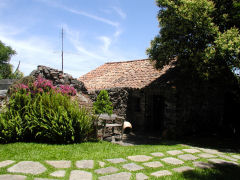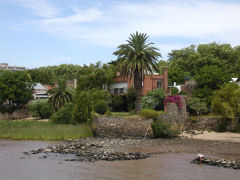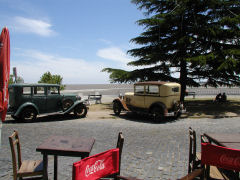 We did a bit of shopping, and decided to have lunch at a restaurant along the waterfront. I'd seen El Torreón, General Flores 19, the last time, it's somewhat famous in the tourist circles because of the antique cars lining the street out front. We started off with a couple of liquados, one of green apple, the other peach, and dug into a platter affectionately dubbed the festival de mariscos, or shellfish celebration. Our waitress had enthusiastically recommended it as a splittable appetizer, and no surprise, as it turned out to cost 580 Uruguayan pesos (roughly $28), which by local standards is a ridiculously high price for an appetizer. I'll admit, it was absolutely delicious – consisting of octopus braised in paprika oil and shrimp and mussels in a green garlic sauce – my first impulse is to say that it's, by itself, worth the trip from Buenos Aires, but on the other hand, it was a bit skimpy for two, and too expensive. It's also strangely garnished with pickled cocktail onions and candied cherries…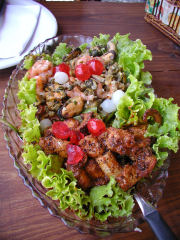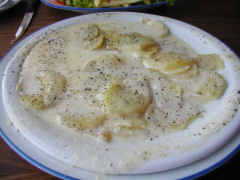 For main courses Henry opted for what's called a chivito uruguayo, or Uruguayan kid (baby goat). There's no goat involved, it's a thin beef steak, sort of like a flank steak, topped with bacon, fried egg, and cheese. The origin of the term? No idea. I had a simple grilled swordfish steak in olive oil, served with a side dish of these spectacularly good papas en crema, thinly sliced potatoes cooked in butter, cream, and lots of black pepper. Overall I recommend the restaurant, the food is quite good. Just be prepared to pay touristy prices for what you get. Lunch ran us 1390 uruguayos, or about $66. The uruguayo has recovered a bit more from my last visit in August, when it was 24:1 to the U.S. dollar. It's now 21:1.