Buenos Aires – That's Indian Spirit as in the nation of India as opposed to the local indigenous population. I found myself in downtown and had in the back of my mind one of the city's few Indian restaurants, Mumbai, Paraguay 436, Retiro, Honduras 5684, Palermo [Note: they moved about two years after this review, and as of yet, I haven't tried the new spot to see what's changed.] as a place to try. My visiting friend from India had tried it last week and enjoyed it, which seemed like a decent enough endorsement to me. The restaurant is small, with a few tables, and a half dozen seats at the bar, plus an upstairs area with a few more tables. The crowd, at least at lunch, was definitely local businessfolk and a few tourists. I plopped down at the bar, which is covered with copies of magazines and guidebooks, kind of emphasizing the touristy bent of the place. The color of the walls is a uniform and slightly overbearing shade of orange-red that falls somewhere between, say, pumpkin spice and cinnabar.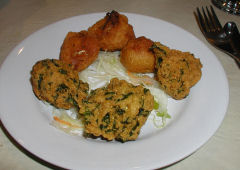 The menu is pretty straightforward, and somewhat limited, but covers maybe a dozen appetizer and a dozen entree classics of Indian cuisine. When ordering I was asked if I wanted it "normal, hot, or Indian hot" – in English – I opted for the mid-range, which turned out to be only mildly spicy, next time I think I'd go for Indian hot. I started off with an order of vegetable pakora, three tasty little dumplings each of cauliflower and spinach, served with two accompanying dips – one a sweet tomato cardamom, the other a bitter lemon and tomato – neither spicy. I have to admit I missed the ubiquitous trio of sauces that one gets in New York Indian restaurants of tomato-onion chutney, tamarind and mint sauces, along with the usual crisp pappadam, which were not offered (a single small floppy flat bread, more or less a wheat tortilla, was served in the bread basket).
For a main course I ordered the chicken tikka, a quite flavorful, and reasonably authentic version of this dish that I enjoyed quite thoroughly. It had enough spice to be interesting, and I ordered a side of rice and a side of pudina nan, a slightly puffed flatbread topped with mint, to accompany it. All around quite satisfying! The one odd note, both the chicken and the pakora dishes came with sides of a sweet, vinegary onion, carrot, and cabbage salad, almost like a coleslaw; not something I'd expect in Indian cuisine. I was more than full and passed on desserts, perhaps another time. Worth stopping in at if you're in the mood for Indian food, and though slightly pricey by general Buenos Aires standards, not really for the downtown business district.