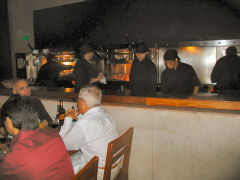 Buenos Aires – Several local friends had asserted that the parrilla Miranda, Costa Rica 5602, in Palermo, was a must. One or two even claimed it was likely the best parrilla in the city. That's a pretty big claim in a city that specializes in steakhouses. Having heard it more than once, I'd decided to go, and we gathered together a group of five us and headed there a couple of nights ago. Right off the bat I like the atmosphere. One of the things that I find a lot in steakhouses here is much of what is found in steakhouses in many major cities – a certain level of stuffiness, and often a large number of older waiters who are bored with their jobs and want to make sure you know it. Miranda is completely different – it's certainly the most energetic, vibrant steakhouse I've been in here. The style is modern industrial, with high vaulted ceilings and painted concrete walls. Decor is minimal, tables are large and comfortable, and one entire wall is dominated by an open kitchen. The staff is young, attractive, and multilingual as, for the most part, is the clientele.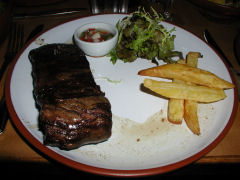 The quality of the food coming out of the kitchen is quite good. Is it the best steak in the city? No. But it's well above the norm. There's a tendency to be a little arty with the plating, but that fits the venue. Nonetheless, garnishing touches like four, count them four, criss-crossed french fries on a plate is the kind of art I find dubious. For the most part the portions are more than adequate, the one exception being the quarter of a roast chicken. The anorexic (though flavorful) portion of a chicken breast was definitely less than adequate. I'm getting better at tossing a little New York attitude into my Spanish, though I had no plans to go overboard, as our waiter had been cheerful and accommodating, but I still managed something to the effect of "on what planet would THAT qualify as a quarter of a chicken?" Within a minute a second half a chicken breast had arrived at the table, along with an apology, bringing the dish up to a decent size.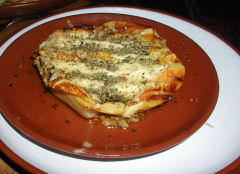 As I said, the quality of the food, especially the meat, was quite good. The one and only exception, the provoleta, that favorite appetizer here of a grilled slab of provolone topped with olive oil, oregano, and generally a little red pepper. This particular version was doused in salt and oregano, and little could be tasted other than those two flavors. A shame, as we enjoyed everything else so much.
We enjoyed a bottle of Fond de Cave Malbec Reserva 2003 with dinner. A rich, ripe style, with a touch of oak and some nice spice, this wine is a bargain find (even at a restaurant price of just under 40 pesos). Definitely one to pick up if you spot it, and a quick internet search shows prices around $8-10 in the U.S.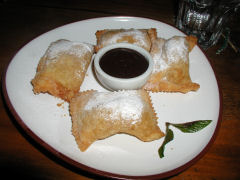 Desserts were in order for at least three of us, and we sampled a quite good fruit salad, a passable cheesecaked with a mixed red fruit sauce, and an excellent plate of pastellitos de banana con chocolate – deep fried pillows of dough filled with sweetened banana and sprinkled with sugar, dipped in a creamy dark chocolate sauce. I love good banana desserts and this one was excellent!
Overall, a genuinely enjoyable experience, made more so by the company. Still, despite not being "the best" parrilla in the city in terms of food, it's clearly one I'll be back to – both for its reasonable prices and its electric vibe.