Buenos Aires – Met up with a new friend for lunch. He's visiting from India with an eye towards moving here. I've been wanting to continue my vegetarian restaurant research (not that either of us is vegetarian, but it had come up), and we'd discussed trying one of the couple of Indian vegetarian options, but decided on Bio, Humboldt 2199 2192 (as of early 2013), in Palermo, which has gotten some nice write-ups for its creative macrobiotic fare. I'm not sure about the macrobiotic bent of the place, I'd put it more in the organic vegetarian category, as their cuisine and ingredients are not particularly local, one of the tenets of macrobiotic cooking.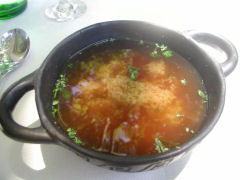 The creativity comes mostly in the form of spicing – the dishes themselves are ones that can be found on vegetarian restaurants throughout the world – things like a veggie burger, soy or seitan "cutlets," a wide variety of rice dishes, and salads. The presentation is pretty, though not particularly artful. The flavors are fresh and bright, what vegetarian food should be. A nice plate of good brown bread and wedges of a richly flavored olive bread was served with a couple of veggie dips on the side. I started off with a bowl of the miso soup, with good depth of flavor, but lacking in much besides the broth – 2 small cubes of tofu and a couple of scattered greens.
For main courses we sampled the vegetarian hamburger, a grain based version served with soy cheese and "marinated onions" (all I know is they were vivid yellow), but without bread. It was accompanied by a nice sized side salad. No condiments were offered. Our other sampling was the seitan milanesa, a breaded and slightly chewy slice of this wheat based product, breaded, and served with mashed squash and a side salad. The flavor was good, it could have used a little salt (or an appropriate substitute), which was true all around. A special "frozen" drink of grape juice, orange juice and ginger arrived cold but not frozen, though still quite tasty, and no colder than the non-frozen orange juice that my friend ordered.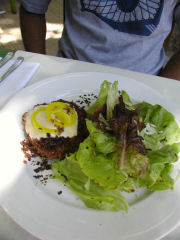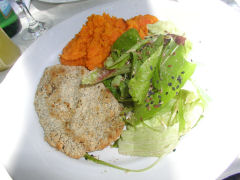 Followed up this reasonably decent lunch with a slice of the "apple crumble," which was actually peach, topped with black sesame ice cream. An excellent combination, and despite the fruit substitution (I actually like peaches better anyway), probably the most creative thing I saw on the menu.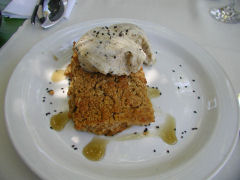 It was quite good, with lots of fruit, and a nicely made whole grain crumble on top. The black sesame ice cream was outrageously good, and something I haven't seen before. Organic coffee and teas were offered, I opted for the cafe de higo after inquiring just what "fig coffee" would be. I was informed that they dry and roast figs, then powder them and brew them into a coffee-like beverage. From the color it looked like a very rich coffee. The flavor was a little watery, but definitely fig, and surprisingly not sweet. A little raw sugar balanced it out, it was an interesting, if somewhat odd, hot beverage.
Overall, a fun and interesting experience, and certainly one of the better options for vegetarians in Buenos Aires. Possibly a little pricier than the average, but not by much, and certainly worth it for the quality of ingredients and cooking.