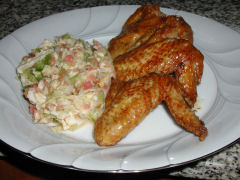 Buenos Aires – Go ahead, tell me that doesn't look just yummy as all hell. Picked up a kilo of chicken wings on sale for a whopping 3 pesos (let's see, that puts them around 40 cents a pound). Decided to let them spend the day marinating and then throw them in the oven and roast them until done. The marinade was simple – a bunch of smashed cloves of garlic, a couple of chopped up dried ají pancas – but any slightly smoky, dried, hot pepper would work well – a splash of cooking oil, and a lot of soy sauce. Turn them in the marinade a few times, keep in the refrigerator at least 6-8 hours. Roasted at fairly high heat, complete with the marinade in the pan to perfume the wings while they cook.
They needed a nice, picnicky accompaniment, and what better than a nice coleslaw? A bit different from the usual recipe, and really delicious!
Coleslaw, sort of German style

1 small to medium napa cabbage, shredded
1 green bell pepper, chopped
3 plum/egg tomatoes, chopped
1 small white onion, chopped
1 good sized green onion, chopped
½-1 teaspoon red pepper flakes (depending on how spicy you want it)

Dressing:
2 eggs
2 tablespoons sugar
2 tablespoons flour
½ cup water
½ cup apple cider vinegar
1 teaspoon salt
1 tablespoon butter

I chopped all the vegetables except the cabbage together in a food processor by using the pulse feature until they were coarsely chopped. The cabbage really needs to be more shredded than chopped – either by hand or if your processor has a disc for shredding.

Combine all the ingredients for the dressing together in a small saucepan, and over low heat, whisk or stir continuously as it heats. You want the consistency of a creme anglaise, or, in simpler terms – when it "coats" the back of a spoon and doesn't just drip runnily off the spoon. Remove from heat immediately and stir into the vegetable mixture. Let sit in the refrigerator for several hours to blend the flavors. You could also set this up in a strainer over a bowl to remove some of the excess liquid, or just do that after it's sat for a few hours.