Buenos Aires – The last 89 omelettes turned out, well, okay. But never quite there. Then suddenly one day, nothing sticks to the pan, nothing burns, it folds over beautifully, it looks yummy, tastes even better, life is good. You didn't do anything different, it just worked. Can you ask for more out of life?
Nothing fancy in this one – used what we had in the house – a minced clove of garlic, a finely diced potato, half a carrot, half a green bell pepper, salt, pepper, and a little of that powdered tomato that I've been carrying-on about for days. Four eggs. Cooked in a little butter and olive oil. Nothing more.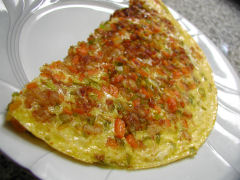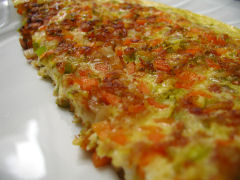 —————
Friends Heather and Amy dropped by to share a bottle of wine last evening. Started off popping a bottle of Torbreck's Marsanne – Viognier – Roussanne 2000, but unfortunately it was maderized. I'm hoping this isn't indicative of problems from my collection's sea voyage – that wouldn't bode well for the rest. We ended up with a bottle of the Rodas Coleción Chardonnay 2004, part of the collection that have become my house wines. The peach and pineapple flavors of this unoaked chardonnay were quite evident, the banana not really, but that's probably a good thing. Overall not my favorite from this line, but still quite drinkable.