Buenos Aires – Met up with my friend Victor and another friend of his yesterday for lunch. He'd recommended we try one of his favorite parrillas – warning me that it was a lot about the ambiance – a real bustling place – and while the food is good, wouldn't be a wow. I like being forwarned on things like that so I don't expect miracles out of the kitchen. Parrilla Peña, at Rodriguez Peña 682, is indeed bustling. At 1:30 in the afternoon we had an easy half-hour wait for a table, and this in a place that has a large room downstairs, and three upstairs, seating for over 100 people easily. At lunchtime it's heavy on the business crowd, with the vast majority of customers in suits. It's a male-dominated room, typical of steakhouses at lunchtime back in the states perhaps, but the first time I've seen it quite so evident here. In a full room there were probably no more than half a dozen women. The median age of the crowd probably heads into the upper 50s or lower 60s. This place is clearly a local institution, and lots of business was being transacted at tables. I gather that some of the customers pretty much eat there for lunch every day.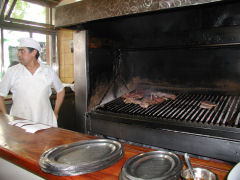 I'd eaten a late breakfast, so didn't plan on anything major. We ordered a couple of mixed salads for the table. Even by Buenos Aires standards these were huge, each capable of serving all three of us, or one as a full meal by itself. Victor and his friend Brendan ordered the house special albondigas, or meatballs. Two fairly large ones, lightly spiced, and coated in a ketchupy tomato sauce, were served atop saffron rice. Good, but as warned, not wow. I ordered a single strip (tira) of the asado de tira, which are beef ribs that are cross-cut, so you get a long strip of meat with the cross sections of the bones lined up. Victor had said that these were the best thing coming from the parrilla. I'm glad I ordered the single strip for 12 pesos and not the 3-strip dish for 24 pesos. It really was the full strip – straight across the ribs of a side of beef, cut into three shorter sections so it would fit on the plate! The meat quality was quite good, they were cooked perfectly, they were in desperate need of seasoning – a little salt and some decent chimichurri that was served on request. We were there for 2½ hours and there were still quite a few tables lingering over lunch when we left. The grill had closed down, but they re-open later in the day for dinner that extends into the wee hours.
With lunch we opened a bottle of Durigutti Malbec 2003 that is one of Victor's favorites. It's a very rich, smooth style Malbec, leaning towards the international style with a dose of new oak and a lot of fruit extract, but still recognizably Malbec. Plenty of dark plum flavors, vanilla from the oak, a bit of spice, and a long, lingering finish. Quite good and I'd recommend it. Runs about 25-30 pesos a bottle here, so by Argentine standards not inexpensive, but worth the price.