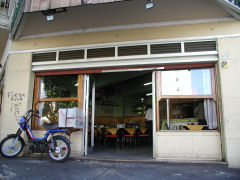 Buenos Aires – I spent yesterday afternoon touring all of New York. Well, Nueva York. I was on my way out to a park that had sounded interesting when I noticed the colectivo was passing by a street called Nueva York. A quick glance at my map showed it to be a fairly lengthy street, roughly 32 blocks, and it was in a nice neighborhood, and I was only two blocks from it's beginning point, so I rang the bell and got off the bus. These are the kind of serendipitous walking tours I like. Nueva York begins at number 2101, at the corner of Av. de Los Constituyentes, right on the line between the barrios of Villa Ortuzar and Agronomia. There was a small restaurant on the corner offering up primarily Italian food, and I hadn't had lunch yet.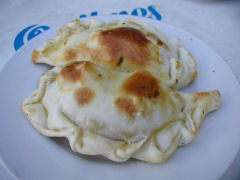 Don Alejo, Los Constituyentes 4002, is not much more than half a dozen inside and half a dozen outside tables. The place is in moderately rough shape, but clean, and the staff seemed friendly. I took a table outside so that I could watch the locals walk by, and the local patrolmen walk his beat (he seemed to just go back and forth on a two block stretch of Los Constituyentes). My breadbasket arrived with an accompanying ramekin of spicy (yes, spicy!) mayonnaise, filled with fresh chilies and herbs. The menu had some interesting sounding things, especially when I spotted the homemade empanadas that included two house special types. The first was a filling of plums, smoked pancetta, and ricotta; the second a mix of salchichas (small, smoky, slightly spicy sausages), green onions, and mozzarella. Unfortunately they were out of both, and I settled for two of what they had, the basic carne. The crust on these was very light, very thin, and puffed; the filling was a very basic filling of ground beef (surprising, not the usual roughly chopped beef), hard-boiled egg, and green olives. They needed a little salt, but other than that were quite good. Sometime I'll hope to return and try the two specials.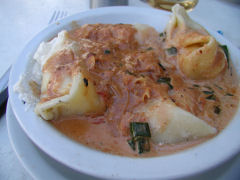 For a main course I decided on the housemade agnoloti with salsa scarpara. The sauce is a mix of filette, which is a basic, coarsely chopped tomato and onion sauce; to which had been added cream and green onions. Quite good! The agnoloti, as you can see, are something else. Not that they weren't good, they were excellent. I think of agnoloti as small, half-moon shaped filled pastas, about the size of a teaspoon, maybe as big as a tablespoon, with the tips joined together. Now, the shape was the same at Don Alejo, but the size? My bowl (and to get a perspective, it's an 8″ pasta bowl) had four, count them, four, agnoloti in it. Each of them the size of my fist. Filled with a creamy ricotta and herb stuffing. Washed it all down with a small jug of house white wine, the Bodegas Lopez Vasco Viejo white, a blend of Torrontés and Pedro Ximenez grapes that was pretty good. A trip to essentially the suburbs also does wonders for the tab – all this for 13 pesos!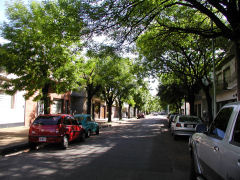 Feeling sated, and needing the exercise, I started my walk down this tree-lined street of small one and two-story homes. The usual sorts of residential neighborhood business are scattered here and there – beauty shops, corner stores, pet supplies; but other than that, it's pretty much all residential. I did stop at number 2535, Los Churros de Mingo, a churro-making shop, where Mingo himself showed me around the small shop (celebrating its 13th year this week) and talked to me a bit about life in the neighborhood. He also kept trying to get me to commit to returning this morning at 7 a.m. and banging on the locked door, for something that involved the churros and a couple of "good looking young ladies." The litany got a little complicated for me to follow, and I decided not to try to clarify it, as with all the winks and nudges I think I was being setup for some sort of sexual encounter with some of his workers and some fried pastries… I begged off with other plans for 7 a.m. on a Sunday morning and continued on my wanders. The churros, by the way, were outstanding, both the plain and filled (dulce de leche), fresh out of the oil… and if you're not sure what a churro is, take a look at the link above, but it's essentially a doughnut type batter fried in long thin tubes that in cross-section are star shaped. Very common sweet snacks here.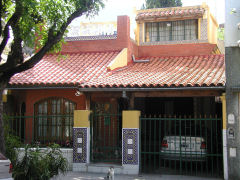 The rest of the walk I took lots of pictures, but there was nothing remarkable about it. The physical street is in rough shape, with broken up pavement in parts, and cobblestone cross streets. The neighborhood is heavily Italian (lots of marble walkways, tile work, and gardens in front of the houses), very well kept, and a mix of older architecture and either new construction or new renovation. The first section, from roughly the 2100 block to the 3200 block is all small homes. Then you detour a block to cross the railroad tracks at the El Libertador station, and continue on the other side. The homes here get a little bigger, and a few apartment buildings are scattered, though nothing major. From the 3900 to 4100 blocks one side is taken up by the quite attractive Plaza Arenales, which is also surrounded by small cafes and shops.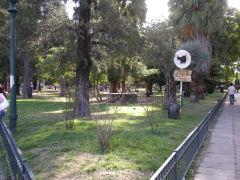 Around the 4200 block you cross another set of tracks just up from the Devoto station (by this time you've walked into the Villa Devoto barrio after crossing all of Agronomia), and the neighborhood loses the Italian feel and is much more classic local style. It continues as a nice, well-kept neighborhood – possibly a little pricier, with some oddities I haven't seen much of in Buenos Aires – guard dogs and speed bumps. There's an interesting looking Anticuchos Mexicanos (Mexican appetizers) restaurant and bar, called Ay! Jalisco, around the 4400 block. It wasn't open, but it looks like a place that would be interesting to try one day. By the time you hit the end, at "the border" of Buenos Aires, Av. General Paz, the last block or two are a little less well kept, and Paz itself has a fair number of dilapidated buildings. I did cross over the border there (it really is a border, with Federal Police checkpoints on each bridge, though they were spot-checking vehicles, they weren't bothering pedestrians), just to see if Nueva York continued on the other side. The street that lined up with it didn't have any signs, and was a short two-block stretch of deserted warehouses, so I returned back to the capitol via the bridge, caught a colectivo at the corner, and made my way home.
The last two shots – a "study" in contrasting architecture, and the last house on the street.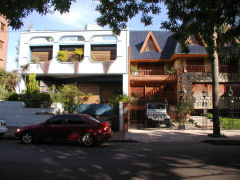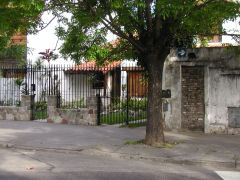 —————
Tim Burton versus Mel Brooks. That's a tough contest. Johnny Depp versus Gene Wilder. Another toughie.
Willy Wonka & the Chocolate Factory
(1971) versus
Charlie and the Chocolate Factory
(2005). No contest. The original was so much better that it was painful to watch the remake last night. The film was as contrived as the kaleidoscopic Esther Williams-esque synchronized swimming, music video parody songs by the new oompa-loompahs. The usual "dark-side" to a Burton film was so badly scripted and portrayed as to be laughable. It was, as Henry put it, a complete bore. Some films shouldn't be remade. No film should be remade this badly.