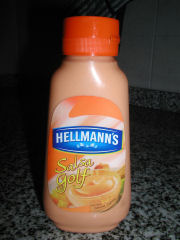 Buenos Aires – As of today, Google lists 517 pages with references to recipes for Salsa Golf, a vividly pinkish-orangish sauce that is quite popular here and in other parts of South America. [Edit: going on 9 years later in October 2014, that number is up to 5,160, a tenfold increase, more or less mirroring local economic inflation. Not that the two are connected.] While the arguments over this sauce may not reach the level of the current arguments over whether George Bush, Fidel Castro, both, or neither, should be allowed to attend this weekend's "all Americas" presidential summit, it is still the source of some contention. At it's most basic, it is a mayonnaise based sauce flavored with tomato. The simplest recipes avow that one uses equal parts of mayonnaise and ketchup and blends them together thoroughly.
Variations abound, from different ratios to different ingredients. The most common addition seems to be cognac, or at least a brandy of some sort. I've tried mixing just these basic ingredients in various combinations, and bluntly, it just isn't the same thing. The flavor is far closer to some sort of take on Russian dressing. But again, not the same. Russian dressing is a blend of mayonnaise, pimientos, chives, ketchup or chili sauce, and spices, and it's name theoretically comes from the inclusion of an ingredient in early versions of the recipe, caviar. Many versions include something a bit spicier like horseradish. The dressing is probably most famous for its inclusion in a Reuben sandwich, along with sauerkraut, corned beef, and swiss cheese.
I've seen discussions of it being closer to Thousand Island dressing, but in my view, that's way off base. Traditional Thousand Island is a mix of green olives, peppers, pickles, onions, hard-boiled eggs and "other" finely chopped ingredients that was invented in the village of Clayton, New York. A local fishing guide, George LaLonde, and his wife Sophia, used to whip this up at home to serve their guests after a day's fishing on the lakes. The story of its fame…
On one particular occasion, George LaLonde, Jr., was guiding a very prominent New York City stage actress named May Irwin and her husband. May Irwin, a renowned cook and cookbook authoress in her own right, was particularly impressed with the dressing and asked George for the recipe. Sophia La Londe, who created the dressing, was flattered by the request and willingly gave her the recipe. Sophia also had given the recipe to Ella Bertrand, who's family owned the Herald Hotel, one of the most popular hotels in Clayton. May Irwin and her husband had stayed at the Herald Hotel during their early vacations in the island and had already tasted the dressing. It was May Irwin who gave it the name Thousand Island and it was Ella Bertrand who first served it to the dining public.

Upon her return to New York City, May Irwin gave the recipe to fellow 1000 Islands' summer visitor, George C. Boldt, who was owner of the Waldorf Astoria Hotel in New York. Equally impressed with the dressing and its flavor. Mr. Boldt directed his world famous maitre d', Oscar Tschirky, to put the dressing on the hotel's menu. In doing so, Oscar Tschirky earned credit for introducing the dressing to the world."

In 1972, Allen and Susan Benas purchased the Herald Hotel and changed its name to the Thousand Islands Inn. Needless to say, Thousand Island Dressing is the "official" house dressing at the inn. The Benas now bottle and sell the dressing at the inn and on the internet.
So back to Salsa Golf, which has been referred to as Argentina's national condiment (though I think that distinction probably goes more to chimichurri, the vinegar based herb and garlic sauce that is popular with meat and fish). I haven't been able to find out anything about its history. It seems to have been part of the local culinary scene for all of recorded history. I have no doubt that it's probably from the same era as many other mayonnaise based condiments, i.e., sometime in the early part of the 20th century. According to the ingredients on the bottle pictured above, it is a blend of water, vegetable oil, sugar, tomato paste, eggs, starch, vinegar, salt, mustard, and lemon juice (along with the usual sorts of stabilizers and colorants). I happened to have a bottle of mayonnaise from the same company, and the only difference in the ingredient lists is the tomato paste. So there's certainly a relationship to the idea of mayonnaise and ketchup blended together, though tomato paste and ketchup aren't the same thing obviously – and these ingredients seem to be the standard on the packaged versions of this dressing.
Personally? I love the stuff. It's great on just about anything that you'd normally spread, well, ketchup, mayonnaise, mustard, or a combination thereof. Hotdogs, choripan (very popular local grilled chorizo sandwiches), burgers, steak sandwiches, you get the idea. Play with the idea and come up with your own version! I don't think I've seen it available outside of South America, but then, I really hadn't looked before.
—Edit 10/03/09— Long after the fact, but Rebecca Caro at From Argentina with Love recently wrote up a great post on the history of this sauce, well worth a read. And over the four years, that 517 google pages has expanded to 960 that reference recipes for it.