Buenos Aires – Petanque balls, that is. And maybe a few others. We headed over to San Telmo yesterday for the weekly antiques fair and flea market, only to discover that the major open air portion wasn't operating. Presidential election day and all that. But we did a little wandering through the indoor shops and dropped in to say hello to Nestor, one of the owners of the local B&B where we first met. For lunch I'd been wanting to try a little French place, Brasserie Petanque, at Defensa 596, corner of México.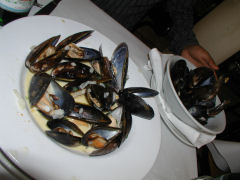 The place looks likes a typical French brasserie or bistro, which is what attracted me to it in the first place. The menu is classic, and makes no bows to local cuisine. It is French through and through. Most of the waiters are bilingual in Spanish and French, a few speak English as well. It is well lit, with high ceilings, and a great display of various French wines and aperitifs behind the bar. We sat down and perused the menu for a few things that sounded fun. Being lunchtime we decided to split the huge bowl of mussels mariniere. Truly traditional – a vermouth and milk based sauce with plenty of onion, garlic, and parsley in it. The flavor was perfect, just what we wanted. My one criticism, the mussels were not well cleaned, and bits of "beard" floated about here and there, plus the mussels were fairly gritty.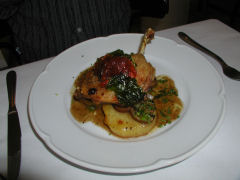 For our main courses, Henry, as I've mentioned, is a big duck fan, so a traditional duck confit seemed in order. It was served atop roasted potatoes that were, unfortunately, the best part of the dish. In truth they were excellent roast potatoes! The duck confit was dried out, which is really hard to do with confit given that it's cooked submerged in duck fat, garlic, herbs, and spices. But however they'd cooked it, it hadn't absorbed any of that delicious fat – it was almost as if they'd oven cooked it dry and then slathered it with a bit of fat. Truly a shame as it looked great on the plate! I quote from Giles Coren of the London Times:
"Duck confit has become such a workhorse of the second-rate suburban brasserie and high-street café chain that one almost hesitates to order it these days. So often it is dry and elderly and scraggy, at its best like a bad Peking duck and at its worst like chewing bedsores. Before refrigeration, the packing of roasted meats in earthenware pots, sealed in their own rendered fat, was a way of keeping them as moist and fresh as possible long after the kill – it was not a way of making them desiccated and scrawny. A confit leg should be embarrassingly sweet and moist and lively and even more comfortable in its own skin (and fat) than a fresh leg, so that it crisps and softens and develops in the heat into something altogether more hefty and exciting."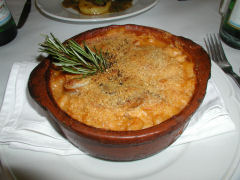 For mine, I decided on cassoulet. It was that or the rabbit in mustard sauce, but the day was cold, the sky was threatening rain, I just felt like a good stew, and cassoulet is one of my favorites. It looked good, but, another miss. Way overcooked once again. The beans were stewed to the point of being not much more than lumps of paste. The chicken and duck were the same dried out consistency of the confit. The one bright spot, a delicious slice of sausage. One. The flavor was also pretty much like the only seasoning was seemed to be ketchup. Quite odd all around, and probably the first time in my life I didn't finish a cassoulet.
In the service and ambiance world I'd also have to submit a miss. While our waiter was quite friendly he had the memory retention of an advanced Alzheimer's patient. He came back to the table twice to ask what we'd ordered. We had to ask three times for our drinks, and at the end gave up on waiting for a check and went to the cashier ourselves. He also neglected to mention that, for whatever reason, the cassoulet takes a full hour to prepare – and apparently they hadn't started it right away – there was easily a full hour between our mussels and main courses, and the mussels took a good 25 minutes to arrive as well. On the ambiance side, most of the customers were clearly experiencing the same difficulties, and I notice a couple of people cancel their orders and leave. I think we were also all annoyed by the one group of eight Frenchmen who decided to be as stereotypical as they could and were alternating between boisterous rounds of singing patriotic French songs at the top of their lungs and loudly proclaiming in a mix of French and bad Spanish all the problems with Argentina, Argentinians, and "brown people" in general. It's a truism that national stereotypes unfortunately have their basis in the reality of a few bad pommes.