Buenos Aires – I love waking up to good news. Really and truly. And this is the second time this has happened to me in the last five years. Not the waking up to good news part, but the particulars. About a dozen years ago I used to write restaurant reviews for a small newspaper in New York, CaB. The publisher and friend, Andrew Martin, closed the paper in roughly 1994, and, well, simply disappeared from my world. A couple of mutual friends later told me that he'd died. So imagine my thrill this morning on receiving an e-mail from Andrew, and it didn't come from that big internet cafe in the sky, asserting that he's alive and well and working in a comedy troupe, Meet the Mistake. As to the "second time" thing, another friend of mine, Jean-Philippe, was touted as having been dropped into a six-foot hole quite a few years ago. This came from a mutual friend, who was also probably his best friend. About two years ago, J-P called me one evening quite late, just to say hi and catch up on the previous 6-7 years. He claimed quite emphatically that he was still alive. But then, I haven't heard from him again…
[Edit: So, Andrew and I reconnected and emailed reasonably regularly, and when Facebook rolled around, connected even more, chatting once or twice a month, sometimes at length. It was a shock then to find out in mid-July 2016, that somehow I'd missed posts on his FB account from his twin sister that he'd passed away from a heart attack a few weeks earlier. R.I.P. J-P and I, while not talking regularly, at least still have some contact, mostly on Instagram – he's living in India and offering privately arranged tours.]
—————
It's good to have goals. Or so I've been told. One that pops up repeatedly for me is the search for sublime ice cream. Back in January 1999, I wrote an
article about travelling in Rome
, and I asserted that I'd found the best ice cream imaginable, or something to that effect. I'm always up for finding out that there's better. Now, the person who told me about
Italia Helados
, Triunvirato 4546, in the Villa Urquiza barrio, made no such claim. He merely claimed that after three years of searching ice cream parlors in Buenos Aires, they served the best he'd found. He may be biased by living in that neighborhood, I don't know. But I decided that Italia Helados would be my goal yesterday.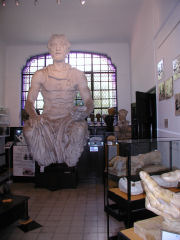 The first leg of my journey to Villa Urquiza was a quick subway trip out to Belgrano. From there, a transfer to a bus headed west. As I was going to the bus stop, I noticed a sign for Museo de Casa Yrurtia, O'Higgins 2390. Having had such a nice experience the day before at a small local museum, I decided to delay my frozen satisfaction and check it out.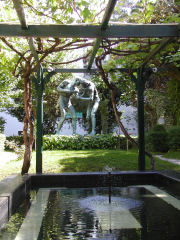 Rogelio Yrurtia was a sculptor, and this beautiful house is filled to overflowing with examples of his work. There are a large number of statues of torsos, most missing various limbs if not all of them, in fact, I'm not sure I saw any complete bodies inside. He was apparently quite fond of sports, especially those of a slightly violent nature, like boxing and fencing, and much of his work encompasses themes from that world. In fact, the main courtyard is dominated by a large statue of two boxers. It was a pleasant little side trip, not near as fascinating as our visit to the Museo de Casa Ricardo Rojas the previous day, but worth a look.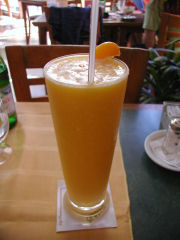 I found my way to the #114 bus, and headed west towards my goal. It turned out to be very easy to find, a mere half block from the bus stop. I decided to delay slightly further and popped in to a corner eatery, Plaza del Carmen, corner of Triunvirato and Olazábal, for a quick sandwich and a liquado. These drinks are quite popular here – a puree of fruit, sugar and your choice of water or milk, I tend to prefer the former. You generally have a choice of fruit, and it was a hot sunny day that for me just screamed out for peaches. Not overly sweet, lots of fresh peach pulp, delicious!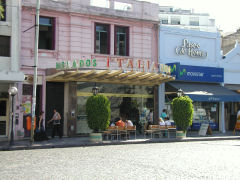 Finally ready to approach my goal, I snapped a quick photo of Italia and walked back across the street. The usual array of local flavors was posted behind the counter, and I picked my standard favorite, dark chocolate, and a second, marrons glacé, or candied chestnuts. I figure if someone can truly do dark chocolate well, they're on the right track. Vanilla is another litmus test. I liked that Italia served the cones in a, well, cone – a plastic cone holder with a lip to catch the drips – definitely a plus with a cone piled quite high with ice cream. The results? The flavors were great. They weren't ethereal. It was really quite good ice cream. I doubt I'd recommend it as worth a trip out to Villa Urquiza, but certainly worth a stop if you're in the area. I'll keep searching.
—————
Had dinner with a quartet of wine writers from "the states" who've been on a jaunt through the wine country. I'd hoped to join them, but with the move and renovations of the new apartment, the timing didn't work. They got into BsAs last night with plans to leave mid-day today, so we decided on a casual dinner somewhere near their hotel. As they put it, they hadn't had a moment to breathe since the beginning of the trip. So we dropped in to
El Sanjuanino
, just to have a little wine, some empanadas, and a bowl or two of stew. A good number of empanadas, a couple bowls of locro, and one of
antilope estofado
, yes antelope stew, and we were happy campers. The restaurant let us open a bottle that they'd brought with them from the U.S., so in addition to a couple of carafes of San Juanino wine, we shared a bottle of
Merry Edwards Pinot Noir, 2002, Windsor Gardens
, from the Russian River Valley. Classic California Pinot Noir, with sweet cherry fruit, a touch of milk chocolate, and a touch of coffee, it was quite good, though possibly a little much for a round of empanadas!