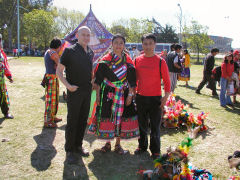 Buenos Aires – Once again pointing up that plays on words don't work cross-language was my attempt at a joke about there not being any virgins at the Copacabana. I didn't say it aloud, as heading to the Bolivian community's Festival of the Virgin of Copacabana, in Barrio Flores, had the air of something serious for my group of Peruvian and Argentinian friends. I had visions of ending up at another small parade winding through streets and ending up at a community center where everyone was drinking beer and catching up on the latest news. Thankfully this turned out to not be the case.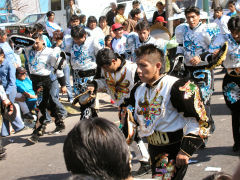 This particular festival stretched in multiple directions. A dozen blocks of mostly food stands dominated the pathway leading into the festival. Thousands, literally thousands of primarily Bolivians were gathered to eat and drink through the afternoon yesterday. In the center of the area a similarly lengthy stretch was taken up by groups of dancers, each in their own community costumes. Bolivians seem to be big on shiny satin and sparkly sequins. Many people attended in "native" costume, one of the rare occasions living here that they get to express that particular aspect of their community.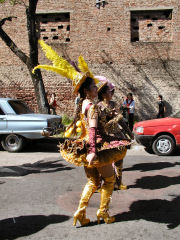 The friends we went with had been to the festival before – in fact it's an annual ritual for them. It's sort of fascinating, after so many years of being the tour guide in New York for visiting friends, to be on the other end. My apologies to anyone I rushed past something they really wanted to stop and look at while I had some end of tunnel vision goal in mind. While we wanted to stop and watch dancers and listen to music, they had a little outdoor restaurant in a tranquil backstreet that they wanted to get to. While we wanted to sample and nibble various types of street food, they wanted to sit down, put their feet up, and have a waiter bring platters. It became a battle of wills with us digging in our heels much to their exasperation and them forging ahead and trying to drag us along.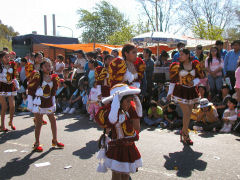 In the end, we managed to watch quite a few of the dancers while they tapped their feet impatiently. In the end, they got to sit and eat and we never got to sample the street food. In the end, we excused ourselves and wandered back through the fair and at least got a chance to look, while they headed off for some venue where they could drink liters of beer and catch up on the latest news.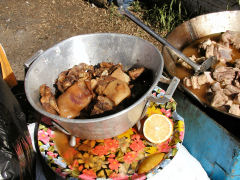 What food did we get a chance to try? Well, the same food that was offered throughout the fair in various versions – chicharrones, picante de pollo, escabeche de cerdo. The first a large platter of pork ribs that were first boiled in water with herbs and then finished in a pot of boiling oil to give them a crispy, browned exterior. The chicken, boiled in oil and then dunked in a mildly spicy barbecue sauce (many of the street vendors looked to be using much spicier sauce than that of the venue we ended up in). And, the first time I've had anything other than fish done escabeche style – poached in vinegar, oil, bay leaves, and onions. In this case, pieces of pork being little more than bone joints with cartilage – very little meat, and the eating seemed to be about the texture of the tendons and the flavor of the marinade.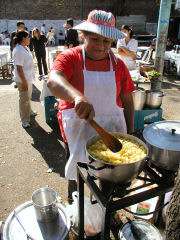 The three meats were served atop large platters of rice and mote. The latter is large kernel maize that is stewed until it is soft. Much like the rice it absorbs the flavors of the food on top of it. By itself it's sort of bland, not surprising for corn that is "stewed" in little more than a large pot of water. Overall, lunch was pretty mediocre. Next festival, regardless of virgin, I'm planting my heels in front of a series of street vendors, even if I end up wandering the fair on my own.
I do feel a need to comment on the Bolivian temperament. I had my first experience in our day and half visit to a border town in Bolivia a few weeks ago and wasn't impressed with the surly, pushy mannerisms. I have to admit to being disappointed yesterday to find that the same repeated itself at this festival. People rudely shoved each other out of the way, fights broke out repeatedly throughout the fair – increasing in frequency and scope as the afternoon and beer drinking continued. Vendors blatantly tried to cheat customers by shortchanging them, either in quantity of product or in actual monetary change. It'd be interesting to know if these things are a national character of the people, and if so, is it long-standing or something that has happened over the last decade as the economy has become successively more and more depressed, and the people more and more oppressed.