Buenos Aires – Spent the weekend out wandering around. It has been the first weekend of truly spring weather, no jackets required, gorgeous. Saturday I headed out along one of the major streets, Córdoba, heading west out to Parque Centenario, one of the city's prettier parks. Unfortunately, on arrival, turned out the entire park is under reconstruction! At least some interesting sights on the way – and the park has both an artisans' fair and a flea market, not to mention a book market, on three of its four sides. Today was a walk through embassy row, Alcorta, or at least a portion of it. Some of Buenos Aires' most beautiful architecture can be found out there, I picked one embassy in particular that I thought was pretty amazing…
I love fountains, and this one in Plaza Andrea caught my eye.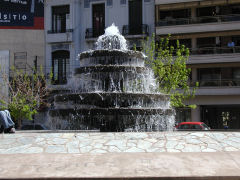 Who knew that Israel and Palestine intersect in Argentina?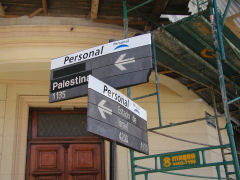 Okay, I get the porthole theme and bridge on top of the Naval Hospital, but damn that's an ugly building.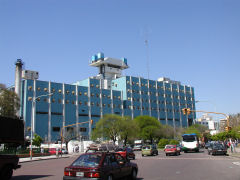 The artisans' fair at Parque Centenario's main entrance.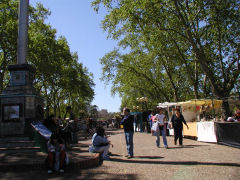 The very bizarre, science-fiction-y fountain in the United Nations Plaza.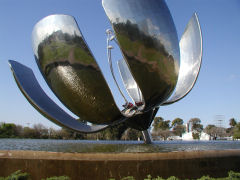 The Embassy of (I think) Haiti and a closeup on its main gate. No sign on it, and a policeman nearby claimed it was the Lebanese Embassy, but that's on a different street entirely! [Later on, I discovered in passing by someone who was out front of the building that it is a private one-family house! The Haitian embassy is across the street, and rather nondescript.]