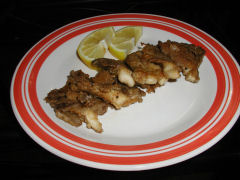 Buenos Aires – Picked up some beautiful oyster mushrooms in chinatown the other day. Decided to just do a search for an interesting recipe on the internet and found a great site with all sorts of mushroom recipes. What caught my eye was a recipe for Mock Abalone. I had all the ingredients except one of the herbs, but it was quite sufficient to make a minor change and have a spectacular lunch today! I can't say I agree that there's any resemblance to abalone – neither the flavor nor the texture – but it was damned good.
½ cup flour
1 teaspoon salt
½ teaspoon black pepper
¼ teaspoon dried marjoram
¼ teaspoon dried basil
2 small garlic cloves, minced
¼ teaspoon paprika
1 dozen good sized oyster mushrooms
2 tablespoons butter
3 tablespoons olive oil
Lemon wedges

Mix the flour, spices, herbs, and garlic in a bag. Add the mushrooms and shake to coat thoroughly. Saute in the butter and oil until browned on both sides. Serve with lemon wedges. Serves 2.