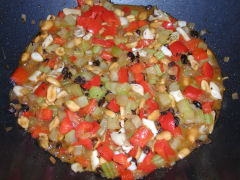 Buenos Aires – Sometimes you look in the refrigerator and realize you have all the ingredients to make something fun. You're not quite sure how they all got there. You picked up a couple of peppers at the market one day and stuck them in the vegetable drawer. There's leftover celery from making celery sauce a couple of days ago. You grabbed a bag of peanuts to snack on. Of course, onions, garlic, and chilies are always there. And you just arrived home with a bag of beautiful jackknife clams that called out to you at the fish market. Clearly it's time to make Kung Pao Clams.
Kung Pao has many different versions, from the main ingredient to the range of others. As best I can tell the keys are peanuts, garlic, chilies, some form of onions, and probably some bean paste. With a few substitutions and tweaks, you too can make your own Kung Pao. Just play with this recipe and come up with your version.
2 cloves of garlic, thinly sliced
1 small onion, chopped
¼ cup fermented black beans (or a couple of tablespoons of bean paste)
2 stalks of celery, diced
½ red bell pepper, diced
1 tablespoon of olive oil
1 tablespoon of chili oil (I make my own – olive oil and chopped chilies)

Saute over low heat until onions and garlic are just starting to brown. Add ½ cup of peanuts (preferably not salted, but if they are, don't add additional salt) and continue to saute until peanuts are lightly toasted.

Add 6-8 ounces of chopped whatever… I used jackknife clams, but you can use chicken, fish, shrimp, tofu, mushrooms. Also add ½ cup of concentrated stock – I used chicken. Turn up the heat and bring to a boil. Cook until the meat is cooked through. Serves 2. Life is good.