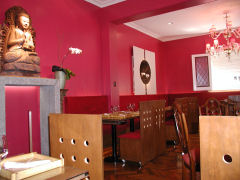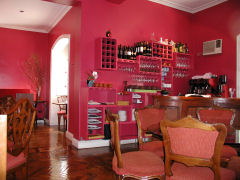 Buenos Aires – When I first saw the name I thought it was a play on the famed nightclub, but after dining, and meeting the owner, realized that Buddha BA was more of a spiritual kinda thing. Located at Arribeños 2288, in Barrio Chino, this two-story "resto-bar" also includes a separate tea salon, a tranquil garden, and an art gallery. It's a shame that food isn't served outside in the garden, just tea, but the vermillion dining room is very comfortable, and the service delightful.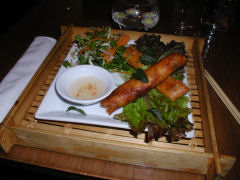 The food is a blend of various Asian cuisines, not "fusion" in the way we often think of it, really more of individually creative twists on classic dishes. A perfect example, my starter, the Paté Imperial, starts with what is probably my favorite Vietnamese appetizer, cha gio. Typically these springrolls are served hot and crispy; which you eat by wrapping them in mint, cilantro, shredded vegetables, and a lettuce leaf; and then dipping the whole thing in a sweet and sour fish sauce. The basic idea at Buddha BA is the same, but the big twist is the filling. Instead of the usual minced pork, shrimp, mushrooms and sprouts, the chef here takes another Vietnamese "classic," usually just referred to as a Vietnamese Sandwich, and fills the springolls with a mix of roasted pork, paté, and spices. The wrapping process is the same, though sans cilantro, the sauce is a clean and vibrant rice vinegar edged with fiery chilies. Quite probably the best cha gio I've ever had.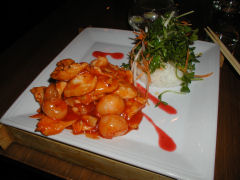 The followup take on a classic Chinese sweet and sour chicken was not quite as awe-inspiring, but was still excellent. Besos de paupé, which I think translates as "pauper's kisses," was a nice mound of lightly sauteed white meat chicken and litchis. The saute is then coated in a sweet and sour sauce that is based on tomato and carrot, with just a little bit of litchi juice added. The sauce is, perhaps, a touch cloying, but I can't say that that really surprised me given the description of the dish as a sweet and sour with litchis . . . and it was served with just enough white rice and a bit of a salad of mixed sprouts.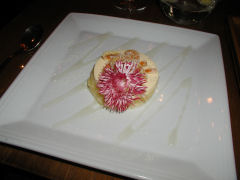 Of course, when I'm impressed with the rest of the meal, I can't say no to dessert. The Lima Tang Kao was fantastic. "Tang kao," I believe, is more or less just the Chinese term for desserts, tang being sugar and kao meaning baked. "Lima," depending on which Spanish speaking country you're from, can be either lime or lemon. For some reason that I've never understood, lima and limón get switched around in different cultures, with the latter seeming to refer to whichever one is more common locally. The description of the dessert was a "lime cake with lemon syrup," how could I pass that up? It was beautifully plated with a pink crysanthemum (which I was warned was decoration only), an intense lemon syrup zig-zagged on the plate, the "cake" was a thin layer of a shortbread crust, topped with a thick layer of lime curd, topped with a thin layer of lime infused, gelled sour cream and candied lemon peel. As I said, fantastic!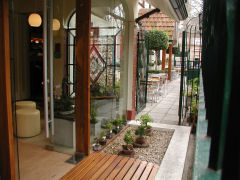 Buddha BA is big on tea service, and as I mentioned has a separate tea salon and garden. The selection is available in the dining room, and my waitress enthusiastically recommended the té rojo de Yunnan, or red tea from Yunnan province. It definitely provided great counterpoint to the dessert. I also liked the tea service – the tea is fresh brewed in a small earthenware pot, then timed, and when ready, strained into a small ceramic pitcher at tableside and served with delicate little teacups. Not an elaborate ceremony, but a nice touch.
Black tea comprises about 78% of the entire world's total tea consumption. Black tea, or as it is known in China – hong cha (red tea), was originally only for export to the foreign markets. In China it is called red tea in reference to the color of the infused liquid or to the red edges of the oxidized leaves, as opposed to the color of the main body of the processed tea leaves. At one time, black tea was considered of lesser quality and not desired by the Chinese themselves and therefore, was exported. Which is why, to this day, black tea is what everyone outside of China thinks of when talking about tea, whereas, tea in China is understood to mean green tea.

Yunnan, "Cloud South" (or South Cloud), the mountainous southern Province that borders Vietnam, Laos, Burma, and Tibet that is thought to be the "origin" of the tea plant (Camellia sinensis). There is one wild tea plant there that is over 100 feet tall and estimated to be about 1700 years old! Of the 320 subvarieties of tea plants in China, Yunnan is home of 260 of them.