New York City – For my last night back in New York there was clearly no other option than to have a really exceptional sushi dinner. My friends Efraim and Efrat, from the building I used to live in. joined me at one of our favorite places in the East Village, Koi, 175 2nd Avenue. This is not the "high decibel japanese/american commissary," "asian-esque barn" in the Bryant Park Hotel that recently transplanted from L.A. This Koi took over the spot that for many years was occupied by Iso after it closed a couple of years ago.
This is an example of what a couple of talented sushi chefs can really do when they set their minds to it. With an intent to provide creative, high quality cuisine in a neighborhood rife with ordinary sushi bars, Koi stands alone. The room is beautifully decorated, especially the artful floral arrangements, which one of the chef-partners puts together each day. The service has its quirky East Village style, lots of flair, pretty girls and boys, a few lisps thrown in here and there, and completely warm, friendly, welcoming, and professional. Many of the waiters have been with the restaurant for most of its run.
Normally when I go in I sit at the sushi bar and leave things up to the two partners, they offer both the typical (though not so typical) sushi or sashimi combos; but also have an amazing value selection if you're up for eating a whole lot of food, the Koi Tasting. For $55 you get soup, three appetizers from a mix of the sushi bar and the kitchen, and then a platter of sushi – generally about 14-15 pieces. It's really more food than one person can comfortably eat, but it's amazingly good. The opportunity to try three different appetizers each time (and they'll ask what you have already sampled, and make it different if you want, or include favorites if you prefer) is my favorite part of that.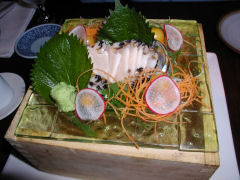 Last night we decided to order things a la carte, and began our meal with a bit of a splurge. Fresh abalone had just come in and they were offering a whole, thinly sliced abalone as a sashimi appetizer. It's the kind of thing you don't get to have very often, in fact, the last time I had abalone it was in Sydney, three years ago, where I was presented with a 1-kilo specimen that a Chinese chef then sliced paper thin and quickly sauteed with snowpeas and oyster sauce while it still quivered at me. This was, thankfully, a significantly smaller mollusk (and far less expensive), served with a dipping sauce made from its own liver (abalones have livers??), and a garnish of ground cherries, something you don't see a whole lot in sushi bars!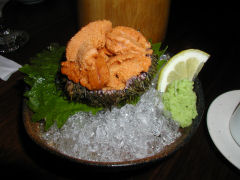 They were also offering fresh uni (sea urchin roe) of both the California and Maine varieties – unfortunately someone beat us out by mere seconds on the last of the large California ones. We "settled" for the Maine urchins – served glistening and heaped in the shell of one of their brethren with nothing but fresh lemon and wasabi (Koi offers freshly grated wasabi as opposed to the reconstituted paste that one generally gets at sushi bars – far brighter, and almost fruitier flavor, and not stingingly hot). Yum!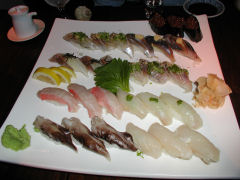 The daily listing of available sushi listed about three dozen different fish and shellfish – all the usual suspects, and then, several that none of us had tried before. We decided it would be fun just to each sample one of each of those that we hadn't had before, or were at least on the unusual side. I'll just list them here, and I couldn't really tell you which was which in the picture: Sanma (Japanese mackerel), Aji (mackerel-pike), triggerfish, purple clams, tairagai (razor clams), kurodai (Japanese snapper), fresh ikura (salmon eggs, but very different from the usual processed ones), wild Copper River salmon, and "golden-eye fish." Pristinely fresh, and just amazingly good. Damnit, I forgot to order the butterfish which was also offered!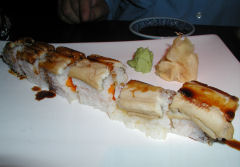 We were basically satisfied, but didn't want to end the evening, so we tossed off an order for an anago, or sea eel, roll. In an interesting twist, Koi's chefs make this with a very thin, marinated and cooked carrot running down the inside. The sweetness of the eel and the sweetness of the carrot matched beautifully, and was a combination I wouldn't have thought of before. It was a very simple touch, but just another example of how well they think things through here.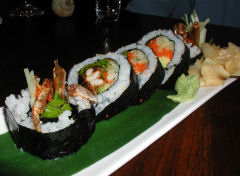 And, because, well, we were still there, we decided to finish off with a spider roll. Soft-shell crab cooked tempura style, then rolled up, still warm, in a sushi roll with avocado and cucumbers. If you like soft-shell crabs it's a really nice end to a sushi meal. It's also a great introduction for someone new to sushi who isn't quite ready to try a lot of raw fish right off the bat.
To drink? Koi offers a quite good selection of different styles of sake, along with explanations on the list about the styles and quality levels of each. We began the evening with a carafe of Ohyama (Great Mountain) Namazake, from the Kanagawa prefecture. "Nama" is a style of sake that is made specifically for youthful consumption – bottled fresh from fermentation, unpasteurized, and still containing just a touch of a spritz. It is fresh, lively, clean, and perfect served very chilled for late spring and summer drinking, and worked perfectly with our two appetizers. For our main round of sushi we got a half bottle of the Hitorimusume "Sayaka" Sake, from the Ibaragi prefecture, a medium dry junmai ginjo, i.e., high quality, slightly sweet, sake, that is much richer, and paired nicely with the selection of fish. Hitorimusume means "only daughter," and Sayaka is apparently her name!
As always, good food, good company, and good atmosphere are what make a satisfying evening for me. If you can provide the company, Koi will provide the other two!