New York City – I'm hesitant to even talk about my favorite little Vietnamese restaurant in New York. It is the very definition of a hole in the wall, and could never withstand the onslaught of the teeming hordes who are daily reading my blog. So please, please, please, don't all go at once. My friend Huy took me to this place several years ago. I vaguely recall some story about the woman who owns this place and his mother knowing each other, but that could just be my mind embellishing the story. Regardless, this was his spot to hang out and have "street food" made the way he remembered it from back home. The place is named Com Pho Thanh Huong, and it consists of five tables located in the back space behind a luggage shop, t-shirt shop, and jewelry store, in one of those little arcades off of Canal Street. I think the number is 271… it's just to the right of the Burger King, between Broadway and Lafayette. That's how I tell friends to get there… and just look for the small sign hanging beneath the awning and pointing to the rear. [This place has unfortunately closed.]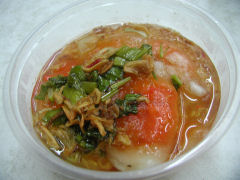 There is a chalkboard menu on the wall listing what's available. To my recollection, nothing on that chalkboard has changed in the last five years. Several types of pho are available – beef, spicy beef, chicken, shredded chicken, duck, and seafood. Then a list of other dishes, simply "pork chop, fried fish, fried chicken." And on one side, a listing of dishes in Vietnamese that I think are the same ones, with maybe one or two more. There are generally three things I come here for. On Saturdays and Sundays, the owner and her daughters whip up batches of shrimp dumplings. These are warmed and then topped with scallions, crispy shallots, and a little bit of a slightly fiery sweet-sour sauce. I could easily just sit there and eat several orders.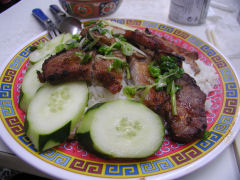 I also really like their Vietnamese sandwiches. even though they're different from the "usual suspects." The version here doesn't include the paté that is generally found, but instead, slices of a sort of terrine of pork. Several different types of meat are use, then topped with veggies and hot peppers. It's really quite good. They were out of them yesterday. I also tend to love the spicy beef pho, but wasn't in the mood for it. I recalled really enjoying the glazed pork chops once before, so ordered them. They came out fried up to a beautiful caramel brown, atop a mound of rice, and served with accompaniments of sweet-sour, fish, and hot sauces, to be blended to my own tastes. Just as good as I remembered!