New York City – The evening started out like a bad movie. It was raining. My friend John had a date, so I was left to my own devices and relegated to a divey little inn (don't worry, it wasn't last minute, I knew about it in advance). Having come into the city fairly last minute, everyone else I'd contacted already had plans. When the rain stopped, I headed out to the streets.
I had a couple of places in mind in the Upper West Side neighborhood, including a new wine bar that John had recommended, but unfortunately, 8 p.m. on a Saturday evening in New York is no time to try to get in anywhere. As I was ambling about, I realized that I'd never seen the new Time Warner Building, though I'd certainly been hearing all the hype about the various top restaurants that were ensconced in it. So I continued that way and entered. The short version – it's a shopping mall. Lots of expensive and trendy stores, weirdly laid out, lounge chairs scattered about on the various levels (and all occupied by people just staring vacantly into space), but it's a mall.
The restaurants are on the third and fourth levels, and I took a little gander at each. Trotter's is "coming soon." Cafe Gray looked elegant from the far end of it's long entryway – I was in a nice pair of new black jeans and an open collared button-down shirt – the "gentleman" at the podium was not having any of it – "You can look at the menu out in the hallway." – "Could I just take a look at the dining room?" – "I. Think. Not." – didn't this attitude go out the window after Sex and the City made fun of it? Per Se was closed for a private event, for which they'd posted the menu outside, it did sound intriguing. Masa only takes diners by advance reservation, even though it was only 1/4 full, as they order exactly the amount of food they need for those people – besides, out of my price range. V Steak looked interesting, but steak wasn't something I was looking for. Stone Rose (hadn't heard about this one) looked and sounded extraordinarily loud and irritating, and they don't allow jeans (but they did let me take a look inside). I noticed off to the side of Masa that Bar Masa was open to the passageway, and ducked inside.
As I mentioned, 8 p.m., well, by now, about 8:30 p.m. on a Saturday evening. The bar can hold about 20 people, and their are tables for another two dozen behind a strip of curtains. The tables were all occupied, the bar was about 2/3 full. Many of the folk at the bar were just having drinks, and by 9 o'clock, the bar was down to half a dozen of us. Half the customers at the tables had left as well. By 10:30 when I left, there were two other people at the bar and four at one table. Somehow, despite the good food, which I'll talk about in a moment, I don't see this place making it at what must be astronomical rental rates, even if they do charge a fortune for their food.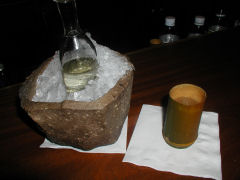 It was clear this was going to get expensive, quickly. But I wanted to sample some of the fare and see what all the fuss was about. I ordered a flask of sake, the Mine no Hakubai Junmai Ginjo, a fairly full flavored, but very refreshing and clean tasting sake from the Niigata prefecture. It was served in a cute little glass flask, maybe 10 ounces or so, i.e., roughly equivalent to two glasses of wine. For $25. Sakes are only offered in these flasks at Bar Masa, and the prices range from the mid-teens to over $100.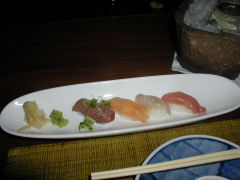 I began with the sushi/sashimi list, which is priced from $5 to $20, per piece. I thought I'd try a couple of more offbeat selections, but my first two, suzuki (Japanese sea bass) and akagai (red clam) weren't available… hmm, at these prices, and with a short list of two dozen or so items, you'd think they could reprint the list each day. I settled on five pieces, the aoyagi (orange clam), toro (fatty tuna), kohada (shad), kinme (snapper), and kobe beef. I never got the shad. After I'd finished dessert, the bartender noticed and asked if I'd like more… umm, no, not at this point, thanks. The sushi was very fresh, presented attractively, and probably the smallest pieces of nigori sushi I've ever seen – very thin and roughly half the size of what you'd get at most sushi bars.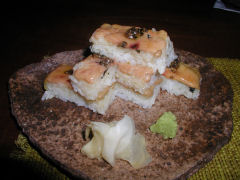 The regular menu listed a selection of various types of sushi and sashimi rolls and combinations. I decided to try one of their "jazzy" specials, and something completely off the regularly trodden pathway. I'm a big foie gras fan, so I ordered the "foie gras, honey and truffle" sushi. A lovely little zig-zagged stack of sushi blocks arrived. I'm not going to say it wasn't tasty. It was. In fact it was quite good. But the foie was sliced paper thin, brushed with a honey glaze, and topped with a couple of crumbs of "summer truffle." It was already becoming obvious that despite whatever quality may be being offered, the cost was going to far outweigh the value.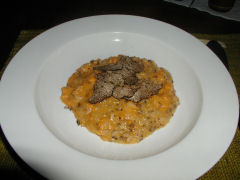 At this point though, I figured I was "in for a penny, in for a pound," and continued gamely away. Bar Masa offers a selection of entrees, including several risottos. One of those caught my eye early on, an uni (sea urchin roe) risotto with summer truffles. Why not? At least that's what I'd thought early on. By now I was figuring it would be a tasty, if not exactly filling, risotto. And I was right. The flavors were delicious, there was a nice scattering of thin slices of truffles, a decent amount actually… at least given the amount of risotto, a portion that in most Italian restaurants wouldn't have constituted an appetizer. Somewhere about this time, the woman of the couple sitting next to me shrieked suddenly, and pointing at me started stammering "You're him, you're him!" Not having a clue what she was talking about led to a brief conversation, wherein apparently she decided I was Tucker Shaw, author of Everything I Ate. I'm not. And really, I don't photograph everything I eat, just a lot of it.
This was the end of what I'd ordered, having originally thought that I was ordering too much. I was still hungry – that sort of maybe I should go somewhere else and actually have dinner feeling. But one of the problems with a place like this is that the food is good, and the space is quite comfortable, and, well, going somewhere else just didn't seem quite like the thing to do. So I flipped open the menu again, and one of the appetizers caught my eye, "squid jerky with spicy mayo." I don't know why, it just did. My bartender perked up immediately, declaring that "she and Masa sit around and eat that together all the time at the end of the night." Masa had popped out from the main restaurant twenty minutes earlier, said goodnight to everyone, and left.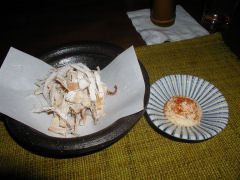 Still, her enthusiasm boded well, and, as it turned out, was dead on target. This is an odd little dish. Interestingly, for being the cheapest item on the menu ($5), it was also probably the most bang for the buck. The dish was mounded with strips of dried squid, truthfully not much done to it other than cutting it, probably right out of the package, and then warming it, I'd guess a quick dry-fry, as some pieces were lightly browned. A small dish of fresh mayo, dusted with chili, accompanied it (I was surprised it wasn't something like shichimi, the famed japanese "seven-spice," but it wasn't). The squid was chewy, but flavorful, and the whole dish just worked really well. It's really more of a bar snack to go with a drink, but I had a little sake left, so that worked.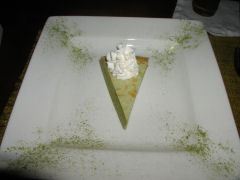 I normally wouldn't have bothered with dessert, especially given the selections… Bartender once again jumped in (she did a lot of that) and highly recommended the Green Tea Mille Crepe. Several waitresses standing nearby echoed her selection (it's that, yuzu cheesecake, ice cream, or fruit). I had no idea what to expect, and I have to say I was apprehensive. I'm not a fan of green tea desserts in general. Most of them taste like spackle. In fact, I can't recall ever having had a green tea dessert that I really liked, and that includes the green tea ice creams that pop up everywhere. I also wasn't sure what to expect from a "mille crepe." I have to admit to being pleasantly delighted. Essentially, I got a slice of what started out as a stack of absolutely paper thin crepes – easily 2-3 dozen of them. Each one was coated very thinly with a sort of green tea custard. The effect was to create an interesting custard torte with some body to it, and the flavors were just perfect. We have a winner. Bartender brought me a taste of Ichinokura Taru sake, a rich, slightly sweet sake from Miyagi prefecture that paired very nicely with the dessert.
Final notes… The food totalled up to $95. I was still hungry, though not so much that I needed to go elsewhere. Given the small number of items, and the few people there, it's disappointing that the bartender missed an item on my order – a pet peeve of mine when people assure me that they don't need to write my order down. The service, for the most part, is friendly, professional and deft… I only noted one major faux pas. There was a waiter who came in and out a few times to get drinks for the main room. Without fail, each glass he picked up, he picked up from above, with his fingertips on the rim, as he transferred the glasses to his tray. He was doing it in front of other servers, the bartender, and a manager, and no one else seemed to notice. That's huge in the fine dining service world.
My recommendation? At least while the place manages to stay open, which I have trouble envisioning being longterm, stop in, have a bowl of squid jerky and a specialty cocktail or flask of sake and enjoy the ambiance. Head to any of a dozen better valued, and still quite creative, sushi bars for your dinner.