Buenos Aires – Having missed my annual 4th of July picnic, and Monday having been Labor Day, and once again having missed my picnic, I decided on an en casa picnic. Plus, I'd promised my friend Michael that one of these days I'd make him some fried chicken – something impossible to find here. Pollo frito exists, but it's just not the same thing here, and while KFC made a stab at cracking the South American market years ago, they flopped dismally in Argentina – it's too much of a beef culture – though they still operate in Chile and Peru.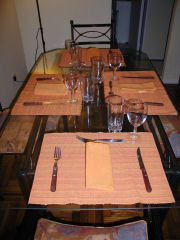 The weather here is still a little brisk for an outdoor picnic, plus this was to be later in the evening. Friends Michael and Heather whom I've mentioned before came, both are also from "the states" and I think a Labor Day picnic dinner was a nice reminder of home for them. Also my friend Juan, who is co-owner of the guesthouse I stayed in when I first visited Argentina, "The First".
What better way to start an "American" picnic than a platter of deviled eggs? The supposed etymology of the name is from the idea that something spicy was associated with Hell and the Devil. I have another theory. These easy to make, deceptively innocent looking hors d'oeurves, are just plain addictive. Really addictive.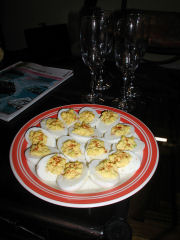 Let's face it, none of us are likely to wake up in the morning and say, hey, let me crack six or eight eggs and make myself a nice big omelette. But put a dozen or more of these delights in front of us and it's about as easy to slow down as "I'll just have one potato chip." I made two dozen for four of us and then hid a couple of them away for Henry to try today. We polished them off easily.
I love champagne with a picnic, and what better way to start the evening than to pop a bottle of sparkling that I brought back as a sample from one of our Uruguayan winery visits. The Pizzorno Brut Chardonnay is eminently drinkable. It was crisp, dry, has nice apple and light spice flavors, had a decent amount of body, and, truthfully, is the best South American sparkling I've yet to taste.
For the main course, there was the aforementioned fried chicken. If you've been reading this blog since its inception, you may remember me mentioning my last dinner in New York City and my favorite fried chicken at Five Points restaurant. It is buttermilk soaked and then battered with a cinnamon-laced crust.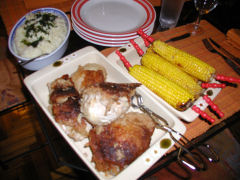 I don't have the actual recipe, but decided to take a stab at it. In short, I soaked the chicken in buttermilk – well here, I have to substitute as the stuff doesn't exist, so whole milk slightly curdled with lemon juice – for about 8 hours. I took a very basic batter recipe and just added cinnamon to it – 1 cup of flour, ½ cup of oil, ½ cup of milk, 1 egg, ½ teaspoon cinnamon, ½ teaspoon salt, ¼ teaspoon pepper. Unfortunately, I have neither a fryer nor a deep saute pan here, so had to substitute wok cooking. It worked reasonably well, and the chicken turned out good, but not great. I'll have to track down that recipe…
Heather brought a bottle of wine that we started with – Ruca Malen "Kinien" Malbec, 2002, from Mendoza. This wine is a blend of mostly Malbec with a bit of Cabernet and Merlot blended in, aged in a combination of French and American oak barrels. The wine shows delightful red fruit flavors, a touch of pepper and cinnamon, and a smooth milk chocolate sort of finish. It was quite good. Michael also brought us a bottle, and, hey, we're pros, so we popped that as well. Familia Adrover Barbera 2001, also from Mendoza, was completely unfamiliar to all of us. From what I was able to find out, this is a small family winery that literally makes three different wines between two large lined concrete tanks – one for Barbera and one for Cabernet (their third wine is a blend of the two). The wine was lively, bright, full of ripe berry fruit flavors, with a touch of leather and lots of spice – notably clove and mace. Excellent!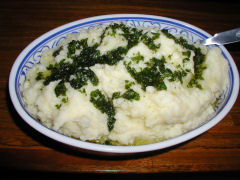 I also roasted some ears of corn in the oven – a pretty standard procedure – cold soaked the corn in cold water for an hour, then wrapped in foil with a pat of butter and a couple of peppercorns (I used whole, dried green peppercorns), and roasted at 350°F for about 35-40 minutes. Yum! And, mashed potatoes. Boiled up a little over a kilo of peeled redskin potatoes, then mashed with a pint of whole milk, a cup of cream, a stick of butter, and a couple spoonfuls of salt (to taste) – not exactly a health food, but oh, so good. I topped it with a drizzle of olive oil that had chopped fresh basil in it. The four of us made it through most of the kilo plus of potatoes…
Dessert I covered in yesterday's post, the Lemon Kiss Pie, and it tasted as good as it looked. A little whipped cream on top was a perfect finish to the meal. A few weeks ago, I mentioned that Michael and I had had dinner at a fancier restaurant, Tomo I. The white wine we had that evening was the Etchart Torrontés and we'd both liked it quite a bit. The other person at the table had mentioned that he thought the winery also produced a dessert wine from the same grape. I happened across a bottle of it one recent day and picked it up (22 pesos) figuring that sooner or later we'd have the opportunity to try it. Lemon pie seemed like a good match (and it was), so we popped the bottle of Etchart Torrontés Tardio 2004. Lightly sweet, with flavors of peach and lime (a touch of bitter pith on the finish), and floral aromas of roses and maybe a touch of jasmine, but not overly perfumey. Very good!
Dinner party number 2 – I think, an unqualified success!