Buenos Aires – Okay, the title doesn't really mean anything, at least the spider part, I just liked the play on the movie title. I'm giving another shot at a dinner party tonight. Rather than make one massive posting, I thought I'd break it into pieces. Since yesterday was Labor Day in the U.S. (here the closest equivalent is May Day, but it's different), I thought I'd go with a picnic sort of theme. Plus, my friend Michael who's coming tonight has been craving fried chicken for months since moving here. The menu? Deviled eggs, fried chicken, mashed potatoes, corn on the cob, and lemon kiss pie.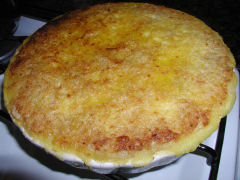 I mentioned the pie several weeks ago in response to the poor selection of lemon pies available here. The granular, jello-ish texture that reminds me much of a sandy superball just wasn't doing it for me. In New York, I used to go to a restaurant on the Bowery called Marion's Continental just for their Lemon Kiss Pie and a cup of coffee. Then they stopped making it. In desperation, I sent them an e-mail a couple of weeks ago and Richard, Marion's son, was kind enough not only to respond quickly, but provide me with a copy of the recipe and, in his words, "Share! We need more sharing these days." Since the pie needs to chill overnight, I made it last evening, snapped a couple of photos (fired one off to Richard who claims to be jealous now – well, hey, he can put it back on the menu…), and now, with his permission, share the recipe. (I do plan to top it with a little whipped cream this eve.)
Crust-
In a processor, process:
¼ cup sugar
¼ pound of butter chilled and cubed
add
1 egg and pulse
add
1½ cups of flour and pulse until like pebbles

Press into a 9″ springform pan and hold in the fridge

Lemon Filling-
1¼ sticks of butter melted (140 grams)
8 eggs
2 cups sugar
2 teaspoons of grated lemon peel
1-1/3 cups of fresh squeezed lemon juice

In a mixer, beat eggs and sugar; add lemon peel; on low, alternate butter and juice; pour into crust and bake 35-40 minutes at 350°F and chill overnight.
I will note that I don't have a food processor here at the moment, so I did everything by hand. Let's face it, people were making pies long before pulsing became de rigeur. Couldn't find a springform pan anywhere here in the neighborhood, but found this nice ceramic pie plate, and I think it probably looks better this way anyway!