Buenos Aires – Raw fish. I've been craving raw fish. Sushi. That, and bagels. The latter I'm going to have to make myself. The former, I'll keep trying places until I find one that does it right. Vicente, at Vicente Lopez 2152, just outside the Recoleta Cemetery in that strip that is some sort of odd restaurant row, comes close. As the saying goes, "close, but no cigar." (An interesting phrase that comes from old casino slot machines and carnival games where a cigar was the top prize. Go figure.) [This place is closed.]
While out at the Recoleta artisans' fair last weekend we'd seen a "restaurant sushi bar" along the west side of the cemetery and last night seemed as good as any to check it out. We were early, arriving at 7:30, drinks were available but no food until 8:00. The room is cavernous, and virtually every surface is either jet black or a convincingly close shade of charcoal grey (with the exception of the lounge sofas which are white pleather). The entryway is dominated by a somewhat hideous modern chandelier reminescent of an enraged medusa. The room is relatively dark. The waitrons are all dressed in black and are, for the most part, trying to pull off seeming seriously trendy. The setup is very SoHo loungy, with appropriate music. The idea is there, the execution falls a short.
Regardless, we relaxed on one of the sofas in the front window. We were presented with menus to peruse for the next half hour, and a wine and cocktail list. The latter is pretty decent, with a good selection of wine and a fairly extensive cocktail list that ranges from classics like the Singapore Sling and the Daiquiri to 90's concoctions like the B-52, the Melon Drop and the Blow Job. I noted to our waitress that there was no sake on the list, she said they offered one by the carafe, choice of room temp or hot. I went for room temp and got a small carafe of some sort of inocuous selection, probably out of either a large bottle or a box. Next time, wine or beer. Something else to find out – is sake imported here in any variety?
As 8:00 rolled around we placed our order and received a very pleasant surprise starting with the bread dish. Sourdough! Four different selections of small rolls – white, whole wheat, poppyseed, and sesame – but sourdough! Served with whipped, herbed cream cheese, it was tasty as could be. A small dish of cold rice noodles with sesame and soy was served to each of us, a little bit of a setback in terms of texture (a trifle undercooked), but good flavor.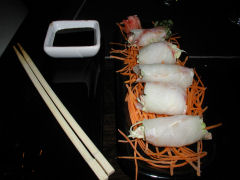 The menu is pretty extensive as well, with not only a sushi and sashimi selection – as usual here, virtually all salmon (a few white fish and shrimp choices too), but also a complete selection of appetizers and main courses. Most of these are not Japanese in style, though there are a few "specialties of the wok…" that fall somewhere between Japanese and Chinese. The selections tend towards trendy Argentine cooking, i.e., things like grilled beef, but with accompaniments that are a little more classy than the usual plate of french fries. I was there for the sushi though, and ordered both the 9-piece "nigori surtido," that came with 3 pieces each of salmon, white fish (probably sea bass), and shrimp, and also one of the specialty rolls, the samurai, described as crabstick, cucumber and ginger in mayonnaise, wrapped in white fish (which was different from the white fish used in the nigori).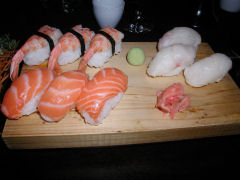 The samurai was a complete disappointment. The mayonnaise dominated, the ginger was barely noticeable, and the white fish used to wrap the roll was chewy and flavorless. This didn't bode well for the upcoming sushi selection. Thankfully, it turned out to be quite good. The fish was fresh, the white fish, as I said, was a completely different kind, and was flavorful and textured well. The shrimp were slightly overcooked, but not badly. My criticism, though minor, too much sugared-vinegar was used in the rice, and there was no wasabi used on each piece. However, a generous portion of wasabi accompanied the selection, so it was easy to add on my own.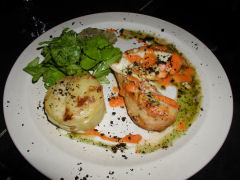 Henry was mildly appalled at the idea of completely raw fish. At the very least, he wanted something like a ceviche. So instead he ordered the stuffed chicken breast accompanied by a potato gratin. It was excellent! He was willing to try the sushi, though unfortunately started with a piece of the samurai roll, which just confirmed his worst fears. In summation, we had a really nice time, the place, while perhaps behind the times in comparison to a lounge in NYC/LA/SF or similar places, was comfortable. The music was good. Most of our food was quite good. It was a little pricey. It's worth a return visit.
[Note: this restaurant has closed.]