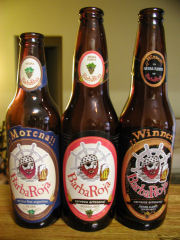 Buenos Aires – August is over. That's amazing. This year and my travel adventures are passing so quickly. Finished off the month by ordering in a pizza and popping a tasting of BarbaRoja's artesanal beers. I'm going to repeat the reviews of the two I'd tried in the past just so that all of them are in the same spot. And then, we move on to a new month of food and drink emprise.
¡¡Trigano!! – The lightest of their beers that I saw, "trigo" means wheat, and this is a typical light wheat beer. Reminded me of spiced, baked apples, it was fresh and clean tasting, it did have a slightly cloying finish, but overall, it was pretty darned good and worked brilliantly with sushi. Recommended.
¡¡Diabla!! Roja Pale Ale – red beers are a style of ale made with specialty malts along with roasting and/or caramel coloring. This is a smooth, easy drinking size with just a touch of bitterness. Flavors of brewed coffee and winter pears. Recommended highly.
¡¡Morena!! Negra – Morena is a style that I saw a lot in Italy, a dark beer (morena is the spanish term generally used to refer to a woman who is dark-haired, kind of like saying "the brunette") that is very smooth and mellow. Strong notes of bitter cocoa, smoke, and a touch of baked apple that matched really well with a plate of strongly flavored fish (I had it with a shark filet with black bean-garlic sauce). Recommended.
Negra Fuerte – Literally the "strong black" beer. In truth, I didn't like this beer at all. The bitterness from the hops was so overwhelming that I could taste little else. If anything it reminded me of a badly made espresso mixed with burnt chocolate. Not recommended
¡¡Winner!! Negra Fuerte Double Bock – I initially thought that the "winner" on the label was some sort of indication of a prize from some competition or other. As best I can tell, however, it's merely the name of the beer. This is a well made double bock, which is an extremely dark beer. It has a lot of the same hoppy bitterness that I didn't like in the Negra Fuerte, but is balanced by some good fruitiness, and a nice touch of smoke – this would go pretty well with a mixed grill, it was a way too heavy for a pizza. Recommended if you want a really, really dark beer.
¡¡Lemon-beer!! – Not just lemon-infused or lemon-flavored beer, but pretty much tasted like slightly cloyingly sweet lemonade. Little beer flavor.
¡¡Fruit-beer!! – Very fruity, almost fruit-punch like beer. Not as sweet as the lemon flavor, and nicely balanced against some spicy pepper.
I think there may be more selections in BarbaRoja's line and I'll keep my eyes open for them, as well as other lines of artesanal beers. As I mentioned way back, the microbrewery movement is still in its infancy here, so I imagine there will be more and more options that pop up over time.