Buenos Aires – No, not another adventure like last week's cyclone.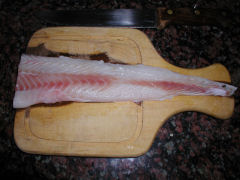 I was around the corner yesterday at the fish market looking for something that looked good for dinner. I'm still not up on all my local names for fish (though I just found this great site for them, search on "pesces"), so I tend to pick by looks alone. There were these beautiful long filets of a pinkish white fish that each weighed around a pound and seemed like a rich, meaty sort of fish. Gatuzo didn't ring any bells, and the man behind the counter kept saying something about a dog and crabs that truly didn't ring bells.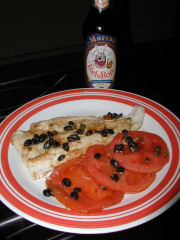 A 1-pound plus filet of fish is a bit more than I wanted for dinner, so I chopped it in half and reserved the rest for tonight. Behold the Patagonian Smooth-Hound (oh there's the dog), a type of shark. They feed on crabs and other crustaceans (aha!). It all begins to fall into place. The fish indeed had a rich meaty texture that looked like it would stand up to a fairly strong sauce. I wanted to stay relatively simple, and I suddenly remembered a package of fermented black beans that I'd picked up in Barrio Chino last week. This recipe is a one portion size, but easy to scale up for as many filets as you want to cook.
1 8-ounce filet of gatuzo (or other firm fleshed fish)
2 tablespoons of olive oil
1 tablespoon of fermented black beans
1 teaspoon of whole green peppercorns (dry, not brined)
1 clove of garlic, sliced crosswise
salt

Over low heat saute the garlic, beans, and peppercorns in oil until the garlic just begins to turn golden. Season the fish filet with just a little salt and add to the pan. Saute on both sides until cooked through, regularly spooning the sauce over the filet as you turn it. You probably won't need more salt as the beans contain a fair amount, but feel free to add more if you it's to your taste. Serve the filet with the sauce spooned over it. I served it along with a couple of thick slices of beefsteak tomato that I quickly seared (grilled would be even better) with a little of the olive oil from the pan.
—————
I keep forgetting about the artesanal beers that I bought weeks ago. This seemed like a great dish to open one up with. Having already tried their light wheat beer, I popped the next "weight" bottle open, the BarbaRoja ¡¡Morena!! Negra. Morena is a style that I saw a lot in Italy, a dark beer that is very smooth and mellow. The BarbaRoja is quite good, with strong notes of bitter cocoa, smoke, and a touch of baked apple.
—————
I was out wandering around the neighborhood this afternoon and of course, began to get hungry.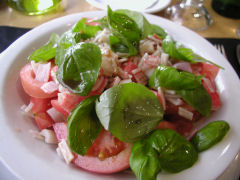 I happened on the 800 block of Uruguay, where there were a couple of small restaurants that seemed to have a common "jazz" theme. I decided on one called Bird just because I liked the name and it looked a little hipper (should I use hepper in relation to jazz?) than the others. Black pleather placemats, waiters in black sweaters and black jeans, decor of painted musical notes and jazz memorabilia, all tastefully displayed… why not? The specialty of the house seems to be composed salads. They have quite a few pre-created combinations, each named after a famous jazz musician, none of the combinations quite fit what I wanted.
The create your own option was more my style, and they have roughly two dozen different salad ingredients to choose from.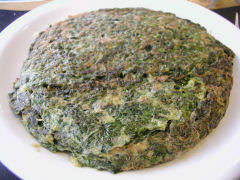 I selected fresh tomatoes, basil, and roasted red bell peppers, then topped it off with crab. Okay, crab stick. Everything was supremely fresh, and dressed simply with olive oil, balsamic vinegar and a little salt. To follow the salad I ordered a torte de acelga, or swiss chard torte. I was expecting something akin to a frittata or quiche, but instead got this somewhat unappealing looking plate of fried swiss chard. Okay, it had a hint of chopped onion in it, and just enough egg to hold it together, but in essence it really was little more than an unseasoned, flattened pile of swiss chard. A bit of salt helped, but not much. Watching other things come out of the kitchen it seems that salads really are their forté at Bird. I'd go back for one anytime, I think I'd just skip the hot food.