Buenos Aires – How did he manage to spend two months already in the capitol of Argentina and not write about tango? I know, I know, I've heard it. Come on, I've at least mentioned it once, maybe even twice. Well, I'll get back to it in a minute.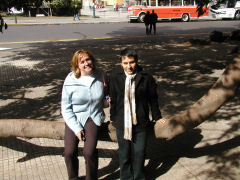 Yesterday was Maureen's last full day in town so we looked for some major touristy things she hadn't gotten to do yet. Teatro Colon is certainly at the top of the list. We weren't up for a show, as we had something else planned for later, but there's a wonderful hour-plus tour offered a couple of times a day in a choice of either English or Spanish. We zipped over to the theater and reserved our places, respectively – Maureen headed for the English tour, Henry and me for the Spanish one (good practice for me – I was happy to find as the hour wore on that I understood a good 80% of what was being said). Even if you manage tickets to a performance, the tour is worth it – you get to see all the backstage stuff like performance studios, costume workshops, scenery design, and all that. Plus lots of historical stuff isn't on display in the public areas. Photography isn't allowed in the theater except in the lobby, which other than a fancy stained glass ceiling isn't particularly photogenic, even if it's pretty grand.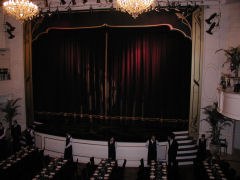 For Maureen's last night in town, we decided to go a little fancy and got reservations for a "tango show and dinner" at Esquina Carlos Gardel, Carlos Gardel 3200, in Once. Carlos Gardel, whom, obviously, the place is named after, is considered the father, or founder, or patron saint, or something of the sort, of tango. He was born in either Uruguay or France. There are various other myths surrounding him. The one indisputable thing seems to be that in 1917 he was the first singer to record a tango song for all posterity. From there, it was onward and upward.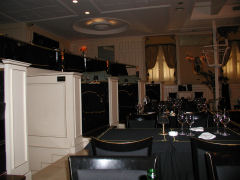 We arrived at the appointed hour of 8:30, forgetting of course that punctuality is a concept that Argentines probably don't even have a word for (it's in my Spanish dictionary, but I'm sure it's marked out with heavy black ink in the local versions). However, that afforded us the chance to take some lovely photos of the room all setup and ready for the folks who would begin to arrive around 9… ish. It's really pretty impressive for dinner theater – a large stage, a huge main floor with what amount to communal tables surrounded by small box tables. And then, the balcony, with a fantastic view of the stage, private tables, private boxes, and we got a table for three right up front. It's all quite chi-chi, or que elegante, with many folks dressing to the nines.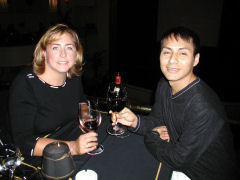 We, thankfully, fell somewhere in the middle, as there were a sufficient number of folks in jeans, t-shirts, and even a group of whooping middle-aged Texans in cowboy hats.
Dinner was what you might expect from banquet style service. There's an elegant leather-bound menu offered in a variety of languages (not that anyone asked what language we'd like ours in, so we ended up with one Spanish – English – Italian, one Spanish – English – Portuguese, and one Spanish – French – Germanish) that you get to pick one app, one main, and one dessert from. Food arrives quickly – within moments of ordering, and the two sequential courses hover in the background awaiting someone clearing its predecessor.
It's an unfortunate necessity, especially given that folks don't arrive on time, the show is going to start at 10:30, and dinner needs to be over before then. Had we known, we'd have probably ordered sooner rather than sit and chat and take photos – we'd have had an extra half-hour to eat a little more leisurely.
The food descriptions ramble on, with all sorts of origins of things (giant (not) shrimp flown in from Ecuador, deer raised in Patagonia, and the like), lists of ingredients that accompany or are in the sauces. All very overblown. But isn't that what dinner theater is all about? The food is plated relatively simply, though quite pretty – when you're churning out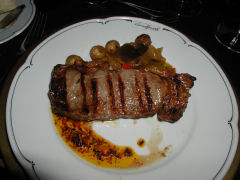 several hundred plates in a short space of time that's what you get.
It's not worth presenting all the photos here, so I just picked a couple of the better ones. Our appetizers – smoked deer (patagonia) with tomato-juniper jam (pictured), those Ecuadorian shrimp in a soy-ginger sauce; and a squash soup. Main courses – two of us got the steak with chimichurri butter and baked potato (see those three teeny balls on the far side of the plate? those are the baked potatoes); and chicken with some sort of vegetable roll on the side and a sauce that I don't recall.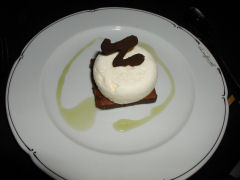 Desserts – a couple of flourless chocolate tarts with coconut ice cream and some sort of very odd, nearly flavorless, dulce de leche mousse that had the texture of jello.
The show itself was great fun and consisted of a combination of music, song, and dance. Both tango and milonga were presented. The costumes were great, the choreography was brilliant, the lighting was all it should be. It was dinner theater! Photos weren't permitted with flash during the show, so I don't have any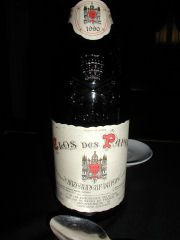 (not that it stopped a good number of American and Japanese tourists who just kept snapping away), but 'twas quite the show.
Oh, since wine is included in the prix fixe meal/show price (190 pesos apiece, or roughly $65, including tip), we'd asked if we could bring our own. They were fine with it, and we brought one of the bottles Maureen had carted in from the states. 1990 Clos des Pâpes Châteauneuf-du-Pâpe was big, earthy, and rustic. Aged quite well, it continued to open up and get more interesting through most of dinner. I did note that towards the end of the evening the last little bit started to turn a bit oxidized, but though perhaps a bit grand for the meal we were eating, it was a fitting wine for the occasion.