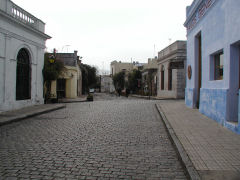 Colonia del Sacramento – It's not really forgotten, it's more frozen in time. Colonia is an old colonial port town in Uruguay, and our first stop after crossing the river via ferry. Truthfully, it's sort of the Uruguayan equivalent of "colonial Williamsburg" or something of that sort. Its one real claim to fame is that it was the only place in the country that was partially occupied by the Portuguese – the rest of the country having been totally taken over by the Spanish (who also wiped out all but one family of the native indian population – that family being sold to a circus back in Europe).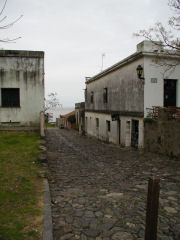 We'd planned on Monday afternoon wandering – a self-guided tour using a "lonely planet" guide, but as we were exiting the port, a woman was calling out from her van that she was offering city tours in both English and Spanish. After a chat with her, we decided that her knowledge and energy made it worth the huge sum of $10 apiece to spend 4+ hours with her. So, along with eight other folk from various countries, we packed into the van and headed out on a combination driving and walking tour of, as one co-tenant put it "this whole town is a museum." The streets in the "old city" (roughly 2-300 years old) have been left with original paving stones, very little in the way of fix-up has been done.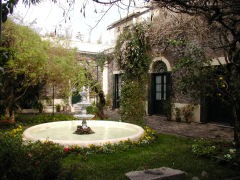 The buildings are a combination of Spanish and Portuguese styled homes, many in disrepair, many having been converted to small museums, hotels, or restaurants.
The center of town is far more modern, most of it having been built up in the last 50-60 years, and some is quite recent. It is little more than a commercial district with surrounding residences. We also headed out to the ritzier areas where several major hotel chains have put or are putting up resort hotels.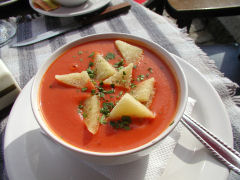 We took a brief walk around the old bullfighting ring (built by a local businessman in 1910, only to have it shutdown when the country outlawed bullfighting in 1912). Our tour guide could not have been more charming or informative, and took time out to shuttle various folk to things like the bank, certain shops, and to other destinations (like dropping us off for our bus later to Montevideo). If you see Beatriz of City Tour as you exit the port, take her up on the offer!
We took some time out for lunch at a small venue at Calle de la Playa 64 (Beach Street), Victoria.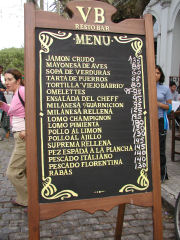 A cream of tomato and a cream of spinach soup were both delightful – full flavored and delicious. Our main courses were lacking in flavor, if not texture (sweetbreads that had not been trimmed of fat, gristle, or skin were inedible; a tough and chewy stuffed chicken breast was so overcooked it could have been anything). Heavy cream sauces drenched both – one of Uruguay's major industries is dairy and virtually every menu item in every restaurant we saw seemed to include cream, butter, and/or cheese. One of the fun things in Uruguay is the exchange rate, which comes out to roughly 24:1 to the US dollar – menu prices and hotel bills have a tendency to look a trifle exorbitant.