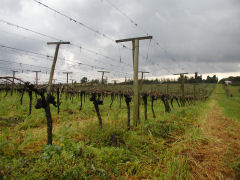 Canelón Chico – My friends at Pisano offered to set us up for another tasting at a nearby winery. We'd originally planned on continuing on with our driver, Daniel, to tour a little along the southern cost of Uruguay, and then later into Montevideo. But the weather was quite rainy, visibility was limited, and this seemed a great opportunity to check out some other Uruguayan wines, our main reason for being in the country in the first place. So it was off to a neighboring town and the winery Bodega Carlos Pizzorno. A bit smaller than Pisano, Pizzorno currently has about 36 acres of vines, a mere 38 barrels (mixed American, French, and Hungarian), exports to 6 other countries (Pisano is available in about 30 markets), and other than hired labor, is entirely managed by Carlos and Ana Pizzorno.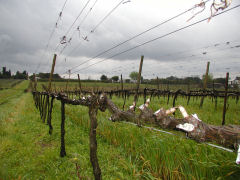 Carlos, the winemaker, markets most of their wines under the label Don Próspero, a tribute to his grandfather who founded the winery. The bulk of the production of the winery is, well, bulk wine, which is what his grandfather started, and what most of the 280 Uruguayan wineries produce. But over the last 16 years, Carlos has gradually replaced a significant portion of the vineyards with these quality vines, spaced further, and carefully tended to produce lower yields and higher quality fruit. The winery now produces approximately 100,000 bottles of quality wine and a bit over 200,000 of table wine. Ana manages the business end of things – an amazing feat given that she's also a local gastroenterologist who sees patients in the mornings, and is coordinating a major research project on the relationship of wine consumption to colon health (the results of which she's presenting at a conference in South Africa in September).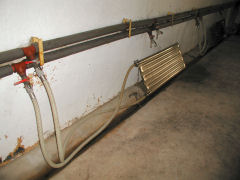 We got the full vineyard and winery tour once again. The rain was getting a bit stronger, so we snapped a few photos and then talked about the vines from a more sheltered location. Within the winery itself we found an interesting mix of old and new. The bulk wines are still fermented in underground cement tanks lined with epoxy. The first time I'd ever seen the system in operation – one of the more interesting features, this metal sheet that is chilled with constantly flowing cold water and is suspended into the tanks to keep the fermentation temperature down – sort of an iced spatula. The quality wines are fermented in new stainless steel tanks. Interestingly, because of the small size of the winery, they are able to hand sort baskets of picked fruit directly into the crusher, which is mobile and can be maneuvered directly over each individual tank so that the juice goes straight into its fermentation tank, without any pumping. (One note, as far as I've been able to determine, without exception, all Uruguayan wineries hand manage, harvest, and process their vineyards.) Once again, I'll move on to tasting notes.
2005 Sauvignon Blanc – this wine is not under the Don Próspero label, but under the Pizzorno name. Grassy, with lime and lime peel flavors, a touch floral, in a way similar to a New Zealand style sauvignon – not surprising since Carlos has worked a bit with a consulting winemaker from there. Recommended.
2005 Tannat maceración carbónica – like many Uruguayan winemakers, Carlos likes to experiment – in fact, he tries to make something new and/or unusual every year. Carbonic maceration is the process used to make Beaujolais Nouveau – the grapes are fermented in whole, uncrushed clusters, under a blanket of carbon dioxide to prevent contact with oxygen. Soft cherry fruit with light nutmeg notes, very juicy, balanced, and with good length. It also has an extremely vivid ruby red color. Currently not exported, but may be soon. This is a great alternative to other nouveau or novello style wines from around the world. Highly recommended.
2004 Cabernet Sauvignon – aged 8 months in French oak this wine shows classic red currant jam flavors, with good balance and length. It's a little light for a Cabernet, but refreshing for that, a very "food friendly" style. Recommended.
2004 Tannat Reserva – aged 10 months in American oak and coming from 16 year old vines (the first that Carlos replanted). The wine is tannic, with strong notes of bitter cocoa and black raspberry. The wine has crisp acidity, not uncommon in Uruguayan Tannat. It's a touch alcoholic now, but it's also quite young. Recommended highly, but give it a little time.
2002 Tinto Reserva – a blend of 60% Tannat, 30% Cabernet Sauvignon, and 10% Merlot aged separately for 10 months in French oak, then blended and aged another 3 months in oak, followed by 15 months in bottle – only 7000 bottles produced. This is definitely an "international style" wine, which is reasonably well made, but honestly, my least favorite of all the wines we tasted at Pizzorno. Good length, well balanced, but very indistinct fruit flavors, and a touch of bitterness. It's elegant, but somehow, just not that interesting.