Buenos Aires – Friday was a day of wandering. Maureen wanted to see the Recoleta Cementerio, so we started there and spent a good amount of time wandering up and down the pathways. It was apparently maid service day – an inordinate number of crypts were open, and scattered throughout the cemetery were buckets of soapy water, cleaning supplies, and, even the occasional worker. There also appears to be a large amount of repair work going on – apparently some money must have been allocated to spruce the place up a bit. Afterwards was a bit of shopping and a stop-off to sample through some of my favorite empanadas and locro at la cocina. The empanadas are still the best I've tried, the locro now, pales in comparison to some others (and, I think, to mine).
Henry came in from La Plata and we all headed out for a wander through the Alto Palermo mall, one of, if not the, largest malls in the city. Mostly a lot of international brands and the usual sorts of mall nonsense, but it was bustling and kind of fun to take a tour through it. Dinner was at a local parilla, Maureen wanting to pack in a bit more beef during her week-long stay. This one, Los Pinos, at Azcuénaga 1500, was brightly lit, turned out to be filled mostly with tourist-types, and was, if it's possible, just a little too friendly on the service side. Dinner was fun, but for the most part the parrillada was just a fatty mess, very unlike the typical here. The one solid asado-steak was decent, but overall, for this neighborhood, you get a better meal at a far, far better price, at Pichi Huasi, where we've been a couple of times.
Today we slept in, everyone seems to be fighting off colds here at the moment – must be the constant changes in the weather. But feeling better when we got up, and the three of us trooped off to Belgrano. There was an artisans' fair just getting into swing in Plaza Belgrano, so we stopped off and did a little shopping for handcrafted jewelry and scarves. Lunch at Contigo Peru, giving Henry a chance to show off some really good, authentic, Peruvian food to Maureen. We had a great mixed seafood ceviche, the real standout of the dishes – but some fun other stuff as well. Then the 50¢ tour of Barrio Chino and buying food for tonight. Had decided on finally getting around to a real dinner party. Henry's been wanting duck, and the only place I've seen it remotely reasonably priced (not that I've seen it many places), was in one of the markets in chinatown.
Unfortunately, by the time we got home, all guests had cancelled via phone message! Tried a little bit of last minute fill-in, but no one was available. Scaled back on the menu to just the main course. Duck with cinnamon-kumquat sauce and Cauliflower with walnut-marjoram sauce. Okay, sounds a bit poofy, but why not? The duck dish is a take off on one that we used to do as a special when I was sous-chef at the Sazerac House in the West Village. The cauliflower is my own version of a dish that Matt Weingarten was doing at Porcupine on the Lower East Side. The duck turned out with great flavor, but unfortunately was a bit on the boney and fatty side – not a whole lot of meat. I guess it was a good thing we only had three of us, because we finished it! The carcass got tossed into the freezer to make stock one of these days.
Picked up a "Lemon Pie" (didn't look like a pie to me, but that's what they called it) for dessert. It must be something local – the same grainy/sandy jello-like consistency as the lemon mousse we had the other night. Finally got a copy of my favorite lemon pie recipe from Marion's, an old stand-by fave restaurant in the East Village (thank you Richard!). I'll have to give it a shot and see how it turns out.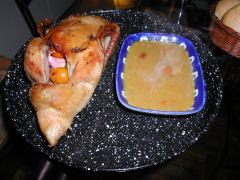 1 duck
6-8 kumquats
3 cloves of garlic
2 tablespoons of butter
1 tablespoon of szechuan pepper
salt

sauce:
1 white onion, finely chopped
2 garlic cloves, minced
1 teaspoon szechuan pepper, crushed
1 tablespoon butter
1 tablespoon olive oil
12-15 kumquats, quartered and seeded
2 tablespoons of brown sugar
½ teaspoon cinnamon
1 quart of chicken stock (or duck stock if you have it)
1 tablespoon butter
1 tablespoon flour
salt to taste

Clean the duck and pat dry. Rub the surface with one of the tablespoons of butter, put the remainder inside the cavity along with the kumquats and garlic cloves, both left whole. Sprinkle the duck with salt and place in a casserole. Add a little water to the pan so the duck won't stick and burn, put the szechuan peppercorns in the water. Roast until done at roughly 350°F – depending on the size of the duck, figure on an hour and a half or slightly less. Occasionally check it and ladle some of the broth over it to prevent burning.

Saute the onion and garlic in the oil and butter with a pinch of salt and the crushed peppercorns. Cook until light golden color. Add the kumquats, sugar, cinnamon and the stock. Bring to a boil, reduce heat and simmer for at least half an hour, stirring regularly. Make a paste of the butter and flour. Just before ready to serve bring the sauce back to a full boil. Add the paste and stir rapidly, allowing the flour to cook a little and thicken the sauce, 2-3 minutes. Adjust seasoning with salt and more sugar if needed.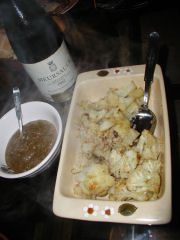 1 whole cauliflower, broken into florets
2 tablespons olive oil
1 teaspoon salt

sauce:
½ cup of chopped walnuts
1 tablespoon dried marjoram leaves
¼ cup of grated parmesan
½ teaspoon white pepper
¼-½ cup of olive oil

Toss the cauliflower with olive oil and salt. Cook in hot oven until lightly browned, stirring regularly (you can also saute them, just make sure they're cooked through; the original dish roasted the whole head of cauliflower – this works really well too – just rub the cauliflower with the oil and salt, wrap in foil, and roast in a 250°F oven for 1½ hours). For the sauce, toast the walnuts in a little oil over medium heat, just enough to remove the "raw" taste – 5-6 minutes. Puree in a blender or food processor with the marjoram, parmesan, and pepper. Gradually drizzle the remaining oil in until you get a nice sauce consistency.
Maureen brought me some great wines from her collection, figuring that I needed a change from the Argentine fare I've been able to get for the last two months. Tonight we chilled and opened a bottle of Domaine des Comtes Lafon Meursault Désirée, 1992. Now that's a special gift. Lafon is easily one of the top couple of producers of Meursault, 1992 was a great year for white Burgundy, and Désirée is a great Premier Cru vineyard. The wine has aged well, and, typical at least of the few Lafon's I've had the pleasure to taste, was "fat", ripe, had a pronounced hazelnut flavor along with ripe pears.