Buenos Aires – My first day in this apartment I'd popped out in the neighborhood and tried a small restaurant down the block. At the time it seemed adequate for a quick few empanadas while I was getting myself settled. This was before my empanada quest began, so I didn't pay much attention. Yesterday being cold and drizzly, I didn't feel like venturing far, so I wandered back in. Los Tucumános Ruiz is at Azcuénaga 1299, right at the corner of Beruti. [This place has closed.]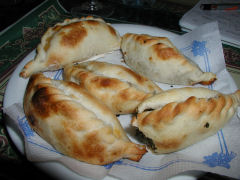 My first sign that something was amiss should have been that the menu had price increases scribbled all over it. True, a 20 centavo increase per empanada is only 7¢, but it's also a 17% increase. The same was true with the locro, which at 7.5 pesos, while only $2.50 for a bowl of stew, was 50% more than locro typically is in small neighborhood restaurants – and now it was up to 8.5 pesos. Still, this is Barrio Norte, and things are more expensive, and the economy is recovering, and did I mention it was cold and drizzly?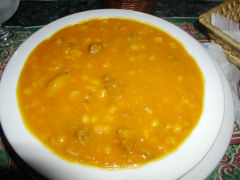 Language differences can create fun mistakes, as I mused a day or two ago. I ordered three empanadas to start, one each of the spicy beef, the corn, and the chard. My waiter, a bustling, slightly gruff, older man, repeated the order back to me. Or so I thought. Shortly thereafter I received three spicy beef empanadas, along with the corn and chard, thankfully, at least, not three of each. It's the kind of mistake that doesn't really bother me, especially for a couple of pesos, and I was hungry anyway. I've discussed tucumán style empanadas before, and true to form, these had the thin, cracker-like crust. A little on the underdone side here, leaving them slightly doughy. And they were stuffed with way too much hard-boiled egg, especially the meat ones.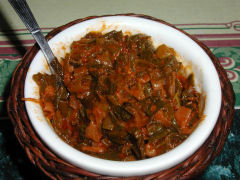 The locro, which has become a favorite stew, does not surpass the recipe I provided recently. In fact, it doesn't surpass the very first locro I tried that Henry thought was barely edible. I doubt it would surpass a canned version from Campbell's. It was little more than pureed squash with some corn, white beans, and gristly bits of meat and bacon. It was completely unseasoned. The only thing that made it palatable was the serving on the side of a sort of green onion salsa that wasn't bad, a dish of hot pepper flakes, and a salt shaker. And it was still pretty uninteresting. I'll stick with the 5 peso locros thank you.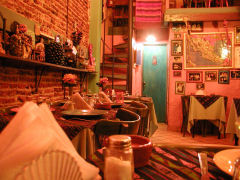 Dinner provided the complete opposite experience. Met up with my friend Heather at a Mexican restaurant in Palermo Viejo that she recommended. Cielito Lindo, El Salvador 4999, was the perfect antidote to my lunch. Only one other person was there when I arrived, but there were reserved signs on virtually every table. A waiter said he had two tables left, one by the waiter's station, one by the bathroom, I opted for the former. Heather joined me in a few minutes and we settled in for some quite good Mexican food. [Closed, maybe around 2010.]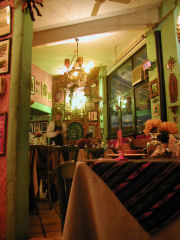 The place is a two room space, with a small balcony in the second room, a bit cluttered, but in a charming way. The walls are all reds and greens, there are pictures and knick-knacks everywhere, and in short order, it began to fill up (by the time we left, a little over an hour later, it was full). My waitress recommended a house specialty drink, the Frida y Diego (I'll leave you to figure them out), a modified margarita with "orange and other fruit juices." A glowing vermillion cup was brought a few minutes later. Essentially it tasted like fruit punch, and was a little too sweet for my tastes, but I could see that in a bar, folks would probably knock them back quickly. I switched to a beer, they have the Mexican standards – Corona, Negro Claro, and Negro Modelo – I went with the last.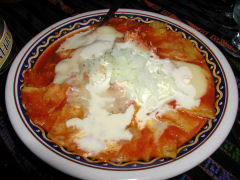 We ordered a small plate of nachos to nibble on and dip into the two salsas, one moderately spicy, the other not, and a quesadilla with chorizo. For a main dish, which was really all I was looking for, I ordered the chilaquiles, a Nahuatl name for the dish meaning "herbs/greens in chili broth." It is often served with fried strips of tortilla on top to provide some crunch. In this version, which was absolutely delicious, the chili broth (which was nice and spicy) was rich with chicken, raw onions, and sour cream, and the tortilla strips were cooked right into it. Yum! All this and it cost me less than my empanadas and locro for lunch. You don't always get what you pay for.