La Plata – I got hoodwinked into attending The Festival of the Virgin. There's no other way to describe it. Hoodwinked. Today was, nationally, the Children's Day Festival. All across the city were wonderful events that included dancing, song, and various theatrical performances. All free. I'd planned on heading back to Parque 3 de Febrerio where they were offering two open air children's operas – Cinderella and Beauty & the Beast. I figured those were at the level of spanish I'd be able to enjoy.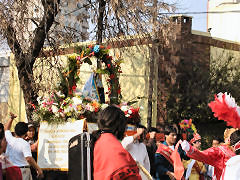 Instead, I found myself being taken to the same sort of festival in La Plata, sponsored by the Peruvian community. (One has to make compromises in a relationship.) What it turned out to be was a short, 15 minute parade that included lots of dancers in bright colored outfits doing their best to keep pace while still performing traditional folkloric dance. Somewhere in the midst of this file of folk (2 blocks long, and a total distance of maybe 10 blocks) was a group of people holding high a table on which was perched "The Virgin." And lots of flowers. Nothing to do with children or their special day.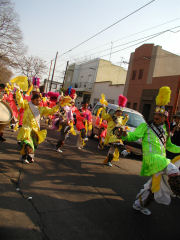 Apparently Peru's Virgin is different from other folks' Virgin as the Bolivians were holding their own parade a couple of blocks away. Regardless, this parade ended at a social hall where everyone milled about, drinking beer and catching up with old friends. I was the obvious, though welcomed, outsider, even if I wasn't up to slugging back a liter of beer (we hadn't eaten yet, and you know how cranky I get). Apparently this was due to go on for a couple of hours – the only food in sight was limited to the official dancers – and other than a planned ceremony "later" honoring the virgin with a few more dances, things were over. (Someone said that the Bolivians were offering food, but we didn't go check it out.) Thankfully it didn't even require much compromise to get us out of there, and after a snack, I headed back to Buenos Aires.