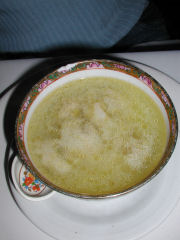 Buenos Aires – Not a return to Barrio Chino, but the name of a local restaurant here in Barrio Norte. China Town is at Uriburu 1755, which basically places it right outside the back of the Recoleta Cemetery. For some reason this area is home to numerous restaurants. Visiting the dead is hunger producing, I guess. I'd noticed this place in passing, it had an elegant look to it, and though a little pricey, looked like it had a nice selection of dishes. We were in the mood for a late lunch, especially after the late breakfast of baked eggs we'd polished off around noon.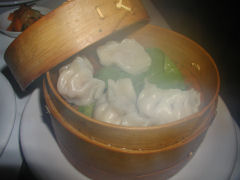 Started off with a simple won ton soup and an order of steamed dumplings. The menu listed these as empanadas a la vapor, or steamed empanadas, but I had a pretty good idea that this would be a little more classically Chinese. Our waiter brought out two steaming baskets of dumplings, letting us know that the first layer (which he served on a plate) were vegetable, and the second layer were meat. Both layers were pork dumplings. The won ton soup was delicious, though a rather skimpy portion, not much more than a "cup o' soup."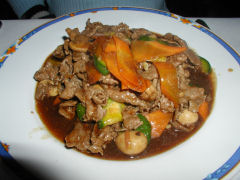 This was Henry's first venture into the world of Chinese food, so we went simple. An order of beef with oyster sauce and an order of chicken with cashews seemed nicely tame ideas for an introduction. Both were well prepared, the chicken was a touch over-salted, but not badly so. The meat was fresh, the vegetables were nice and crisp rather than the usual limp and lifeless sorts that one gets in many restaurants here. The rice was a touch dry, and tasted like it may have scorched in the pan.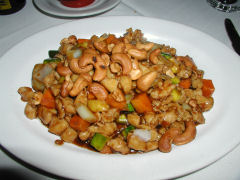 I might have thought twice about eating here if I'd have realized that we were walking in moments before they were planning to close from lunch for a few hours until reopening for dinner. I have the feeling some of what we got, like the dumplings and the rice, were essentially leftovers. It was also, as I said, a touch pricey. From my perspective a trip back to El Dragón in the Centro district or out to Barrio Chino again, would be well worth the time spent.
[Note: this restaurant has closed.]