Buenos Aires – In my continuing quest to make my breakfasts interesting, since I'm still not being allowed a solo cup of coffee, I've been playing with eggs. This morning's venture was one of the better turnouts, and it photographed well, so I thought it'd be worth sharing.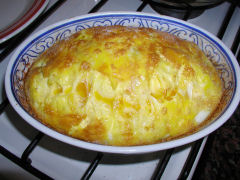 I used to love getting baked egg dishes at a little place on Christopher Street in New York called David's Potbelly Cafe. We would sit out in the back yard during nice weather and charming waiters would bring us steaming casseroles filled with fluffy eggs and a variety of fillings. It was sort of a cross between and omelette and a soufflé.
This was definitely a recipe based on items that happened to be sitting around, but luckily, there tend to be lots of such things. I wanted a bit of a crust on it, so I thought I'd create a sort of hash brown topping that would crisp up nicely.
Topping:

1 medium potato, cut in fine dice (less than ¼")
1 large green onion, chopped fine
1 clove garlic, minced
1 jalapeño or serrano pepper, seeded and minced
1 teaspoon parsley flakes
1 teaspoon marjoram
1 tablespoon oil
2 tablespoons butter
½ teaspoon paprika
salt to taste
¼ cup fine bread crumbs

6 large eggs
salt and pepper to taste

Butter a casserole dish and then coat lightly with fine bread crumbs. Saute the onion, garlic and pepper in the oil and the rest of the butter until just translucent. Add the potatoes and the herbs and spices and cook, stirring regularly to prevent sticking, until the potatoes are cooked through. Add the remainder of the bread crumbs and cook for another minute. Remove from heat and pack firmly into the bottom of the casserole. Beat the eggs with a little salt and pepper and pour carefully over the potato mixture. Bake in a hot oven until it is puffy and browned. You can serve it this way if you like, but the whole reason for the potato crust was to create a topping rather than a bottom crust. So I flipped it out onto a plate and served it that way. Serves 2 for a great brunch!