Buenos Aires – Apparently I'm going to be subjected to breakfasts in excess of coffee for more than just one day. Not that I really mind, it's just not what I'm used to.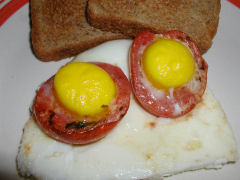 It also gives me a chance to be a bit creative with nature's most perfect self-contained food, the egg. "Incredible edible" and all that. This morning I decided that some form of baked eggs were up for their turn.
There's an interesting provençale recipe for baked eggs and tomatoes (Oeufs sur le Plat aux Tomates) that I really like. All the ingredients were on hand, so I fired up the oven and breakfast was ready in about half an hour.
1 tomato per person (I used plum tomatoes)
Olive oil
2 eggs per person
Salt and pepper
Minced garlic
Chopped parsley

Cut the tomatoes in half. Seed them carefully without breaking them. Season with salt, pepper, parsley, and a bit of garlic, and fry them, cut-side down, in the oil until just lightly browned. Then scoop them and the oil in the skillet, onto an oven-proof dish fried-side up. Break an egg over each tomato half (unless you hollow them out, you'll probably, like me, only manage to get the yolk to balance on top, the whites will puddle around the tomatoes). Bake at 400°F. Serve with toast, sprinkle with a touch more salt.